Marauders Hold Off Local Rivals at Willow Hill
Varsity tops Davis, Rio, McClatchy, Inderkum (Saturday, September 8, 2018)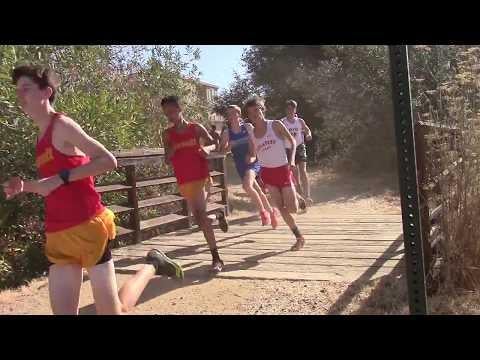 The Varsity Cross Country team and junior Matt Strangio won their 2nd race of the season on the 2.1 mile course at Willow Hill. Strangio held off senior Xander Reimers of Inderkum to win in 10:54. Senior Colin Ryan finished in 3rd in 11:11 while senior Antonio Vargas was 5th in 11:17 and senior Anthony Rogado was 7th in 11:24. Senior Colin Brannan was able to finish ahead of Davis' 4th finisher in 11th in 11:33 to seal the win for the Marauders. Junior JT Leach broke into the top 7 with his 14th place finish in 11:42 while senior Miles Worthen edged junior Connor King for the 7th spot in 11:51 for 17th place. Jesuit won with 27 points over Davis' 46 and Rio Americano's 65.
The Frosh-Soph squad ran well but could not overcome the strength of McClatchy's top four finishers in the 2nd place finish. Sophomore Michael Chambers was able to break up McClatchy's top 3 with his third place finish in 12:04 and freshman Tyler Offerman was 7th in 12:27, one place ahead of McClatchy's 4th. Though Jesuit was able to get the rest of their top 7 in before McClatchy's 5th runner, McClatchy's strength up front prevailed 33-43 over the Marauders. Freshman Cameron Cleland placed 10th in 12:39 for the young squad with sophomore Joe Ryan in 11th (12:43) and freshman Ian King in 12th (12:48) right behind. Freshman Spencer Morrison was 15th (12:59), leading sophomores Michael Gamette (16th, 13:01) and Tommy Gee (17th, 13:01) through the line. The Frosh-Soph Boys edged Davis 43-47 for third.
The cross country team travels to Newhall Park in Concord for the De La Salle/Carondolet Invitational.
| | |
| --- | --- |
| Varsity Boys | Score |
| 1. Jesuit | 27 |
| 2. Davis | 46 |
| 3. Rio Americano | 65 |
| 4. Inderkum | 110 |
| 5. McClatchy | 134 |
| | |
| --- | --- |
| Frosh-Soph Boys | Score |
| 1. McClatchy | 33 |
| 2. Jesuit | 43 |
| 3. Davis | 47 |
| 4. Rio Americano | 131 |
| 5. Inderkum | 136 |