XC Previews State Meet Course at Clovis Invitational
2nd squad impresses at Wildfire Invitational (Saturday, October 6, 2018)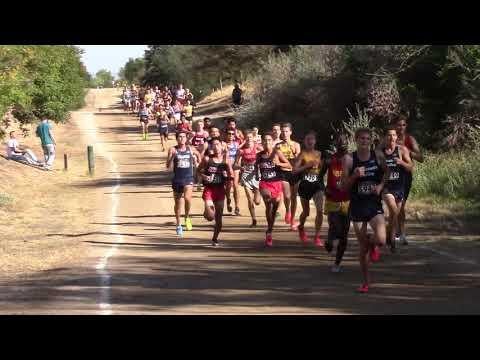 A short-handed varsity squad proved it could run with the top programs in the state even without three of the top five usual scorers on Saturday at Woodward Park in Fresno, the site of the California State Meet. Senior Colin Ryan again led the squad by breaking 16 minutes for the first time on a 5K course, running 15:48 for 36th place. Junior Chase Gordon nearly matched the feat in 16:01 in 51st. Senior Gabe Lovely took 75th in 16:17, Senior Colin Brannan ran 16:34 in 102nd and senior Miles Worthen finished 130th in 16:50. Senior Seamus Caslin ran 17:00 in 143rd and junior Connor King raced with the varsity squad for the first time in 17:21 in 161st. The team finished 15th in the highly competitive field that was won by Great Oak of Temecula.
The frosh-soph team placed 9th in the Large and XL Frosh-Soph Boys race behind freshman Braden King who took 9th overall in 16:48. Sophomore Michael Chambers and freshman Tyler Offerman stuck together in 62nd and 63rd in 17:52 and 17:53, respectively. Freshman Cameron Cleland closed nicely to break 18 in 17:54 for 68th place while freshmen Harley Sherman (78th, 18:04) and Gavin Joaquin (89th, 18:08) had solid runs on their first 5K race. Sophomore Joe Ryan was 120th in 18:35.
The JV Boys finished a spectacular 4th overall behind senior Todd Russell who placed 27th in 17:23. Behind Russell came a slew of red singlets and gold shorts with junior JT Leach in 35th in 17:28, junior Demetri Petuskey in 38th in 17:29 and senior Russell Kustic in 39th in 17:31. Senior Bobby Canalas placed 47th in 17:37 with juniors Talon Krieger and Martin Smith in 62nd and 63rd, respectively, in times of 17:48 and 17:49.
The squad competing locally in Foresthill at the Wildfire Invitational impressed with a win at the freshmen level and a 2nd place finish in the JV division. The young Marauders dominated the freshmen race with 5 of the top ten finishers, including winner Julian Curiale in 11:14 3rd place finisher Diego Levenfeld 11:32. Tomas Penner was 6th in 11:51, Giovanni Sloppye was 8th in 12:04 and Ryan Anderson was 10th in 12:18. Jack Ericson was 11th in 12:19 and Drew McDonald was 13th in 12:20. The JV squad took 2nd to Del Oro behind junior Eric Huitt (4th, 18:40), sophomores Michael Gamette (5th, 18:57) and Lukas Crawford (6th, 19:06), junior Ryan Rush (8th, 19:16) and senior Alec Mlikotin (11th, 19:39). Senior Arjun Deol ran 20:49 in 26th and sophomore George Sicner was 75th in 23:12.
The full squad competes together at the Bronco Invitational in Rocklin on Saturday October 13th.