Morning Football Kickoff
Fox40 Final Quarter morning show broadcast live from Jesuit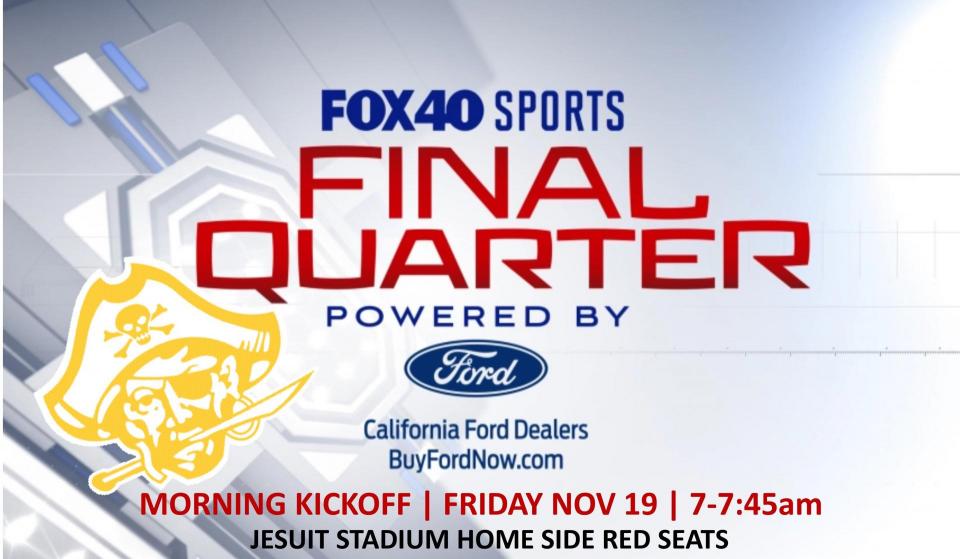 BIG RED is on TV!
Join us in the stadium's home side seats and be a part of this spirited live broadcast with Fox40 morning TV and the Final Quarter sports crew!
Students, alumni, families, and friends are welcome! Wear your Jesuit gear and be ready to show your spirit.
Football Players should wear their jerseys - Varsity white, Frosh/JV red.
So what is this? Fox 40 News will be broadcasting their Fox 40 Final Quarter Morning Kick-Off Show live from Jesuit this Friday morning to celebrate the success of Jesuit Football this season. Jesuit would like to have all members of the Jesuit Football Family, including football parents and fans, present if you are available that morning. We ask those that attend to wear Jesuit gear. JV and Frosh Football players are asked to wear their red jerseys and meet in the Stadium red seats in the home side bleachers between 6:45 am, and 7:00 am. Varsity Football players will wear their white jerseys.
Fox 40 will do several live teasers and interviews on air with our coaches and players between 7:00 am, and 7:45 am, and our Jesuit family will all be there in the background to cheer them on and pump everyone in the community up for Saturday.
Come out and let's celebrate our program's success this season with the coaches and players, the drumline, the cheerleaders, Jesuit Gallery Crew, St. Francis Zoo, and other fans as we prepare for Saturday's big playoff game versus Folsom High.
Below are some examples of recent airings of Fox 40's Final Quarter Morning Kick-off show … We know we can raise the bar!
https://fox40.com/sports/final-quarter/final-quarter-morning-kickoff-mcclatchy-takes-on-river-city-tonight/
https://fox40.com/sports/final-quarter/final-quarter-morning-kickoff-west-park-takes-on-cordova-tonight/