Paul Rose
Department Chair, AP U.S. History / Varsity Soccer Coach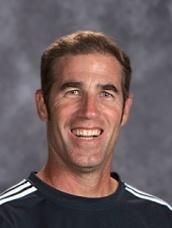 Paul Rose began teaching at Jesuit in the fall of 1979. He has taught every social science class at Jesuit over the years. Currently, Paul teaches Advanced Placement United States History (Junior year class). Paul Rose over the past five years has traveled extensively across the United States to many historical sites including Gettysburg, Independence Hall, Yorktown, and Williamsburg to name a few. In the summer of 2010, Paul was chosen to attend a Gilder Lehrman Seminar on "The 1960's In Historical Perspective." For a week he studied the 1960's under two professors at Georgetown University.
In addition to teaching, Paul works in Campus Ministry. He is in charge of the Sophomore and Junior Retreats and manages the Senior Retreat Team. The Sophomore Retreat is a one day retreat and the Junior Retreat is an overnight retreat. Both retreat are at Christ the King Retreat Center in Citrus Heights. The Senior Retreat Team is a group of twenty-five seniors that facilitate the retreat.
Paul Rose has been the Head Soccer Coach at Jesuit since 1979. He was named to the California Coaches Association Hall of Fame in June 2011 for becoming the winningest high school soccer coach in California history. He was named to the Sac-Joaquin Section Hall of Fame in 2013. He has been named the NSCAA National High School Boys Coach of the Year three times (2003, 2006, 2010), more than any other boys coach, and the NHSCA National High School Boys Coach of the Year in 2013. His 2003 and 2012 teams were named the National Team of the Year ending the season with a #1 national ranking. The 2008, 2009, 2010,2011, and 2015 teams were all ranked #1 in the nation during that season. The 2009 and 2010 teams end the season ranked #2 in the Nation.
Outside interests include classic car restoration, music, and playing guitar.
Education:
Graduate of Bellarmine College Prep. 1975
Graduate of Santa Clara University 1979
Post-Baccalaureate Degree: UC Davis (Double Credential - History and Social Studies) 1984
Masters of Education – Curriculum and Instruction work – CSUS – thesis not completed.
Moderator/Coach:
Head Soccer Coach: 1979 – Present
Moderator of the Senior Retreat Team
Director of Sophomore Retreats
Director of Junior Retreats
Moderator of the Car Club
First year at Jesuit: 1979