Dede Crayne
Varsity Diving Coach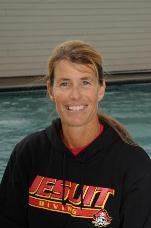 Dede currently serves as Jesuit's diving coach where she has been a member of the coaching staff since 1999. She also has great experience in developing divers outside of Jesuit as she is the Director of the Capital Divers, which she started in 1997. Dede's other coaching experience has been to lead the divers at American River College since 2009.
Dede started her diving career at Santa Rosa Junior College. She competed there from 1985-1986. She then transferred to Chico State and dove from 1986-1988. She graduated from Chico State in 1988 with a Bachelor of Arts Degree. She later earned her Masters Degree in 1989.
Dede has enjoyed much success as a competitor and coach. She was Junior College State Champion in 1986 and earned All-American honors at Chico State in 1987 and 1988.
As coach at Jesuit, the dive team has won the Delta River League Championships from 2000 to present, and has had the individual League Champion for the last 10 years.
The Jesuit Dive team has won the Sac-Joaquin Section Championship in 1999, 2000, 2001, 2011, and 2012.
Coach Crayne aims to provide a program that stresses integrity, passion, and learning, while integrating plenty of fun and camaraderie. Diving is a new sport for many of these young men and she wants it to be a positive and confidence building adventure.