Joseph Potulny '76
Physical Education / Varsity Baseball Coach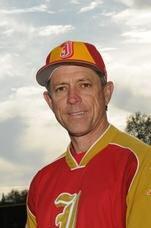 Joe serves as Jesuit High School's baseball coach. He has been a member of the coaching staff since 1986. In addition to baseball, Joe coached freshman football from 1989-1992 and freshman basketball from 1991-1992. Prior to coming to Jesuit, Coach Potulny coached at the University of San Francisco as a graduate assistant in 1981. Later, Coach Potulny traveled to Wisconsin and was an assistant coach for the La Crosse Loggers in the Northwoods League, a summer collegiate league, from 2008-2012.
Joe graduated from the University of San Francisco in 1981. He played baseball for American River College in 1977-1978 and then USF from 1979-1980.
Coach Potulny has several professional affiliations. He is a member of the American Baseball Coaches Association, the National High School Baseball Coaches Association, and the California Baseball Coaches Association.
In 2001 and 2005, Joe was honored with the American Baseball Coaches Association Regional Coach of the Year. He also received the California Coaches Association Sac-Joaquin Section Coach of the Year in 1997. He was named the Northwoods League Assistant Coach of the Year in 2012. Joe also has many league Coach of the Year awards, as it is awarded to the skipper of the league champion.
Coach Potulny has led Jesuit Baseball to many titles:
Capital Valley Conference – 1994
Metro League – 1995, 2000-2002
Delta League – 2006
Delta River League – 2008, 2009-2011
Sac-Joaquin Section – 1994, 1996, 2001, 2008, 2009
In 2001, Jesuit Baseball earned a #31 Baseball America National Ranking and a #1 Nor Cal Ranking. In 2008, Jesuit Baseball secured a #3 Cal-Hi Sports Nor Cal ranking. Later in 2009, the Baseball team captured a #44 ESPN Fab 50 National Ranking and a Cal Hi #2 Nor Cal Ranking. Coach Potulny has posted a record of 456 wins, 177 losses, and 8 ties.
Coach P shares his coaching philosophy. The field is an extension of the classroom. We are asking our players to be present with maximum focus for every repetition during practices and games. No detail is too small. Use your God-given athletic abilities to their fullest. We are process oriented. Positive outcomes are the end result of consistent repetition during practice time.
Joe mentions enjoying so many great coaching moments. Robbie Bystrowski '95 scoring from first base at 1:00 am to earn the first trip to a Section Final. Bystrowski stealing home one week later for Jesuit Baseball's first Section Championship. J.P. Howell '01 pitching 49 consecutive innings without allowing an earned run on his way to becoming the State Player of the Year. The 2008 team competing with Buhach Colony in a classic three game series for the Section Title. Perhaps the greatest array of talent ever produced by two teams in the history of the Section Final. The 2009 team and their commitment to repeat as Section Champions was a great moment too.