Tom McGuire
Track and Field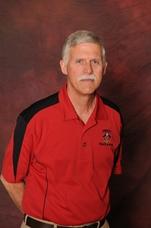 Tom currently serves as Jesuit's track and field coach. He started his coaching career at JHS as an assistant from 1983-92. He then moved to Co-Head coach in 1993, and then to Head Coach in 1994 to the present. Tom also coached freshman football in 1984 and JV football in 1985. Prior to coaching at Jesuit, Tom coached golf at St. Paul High School in Santa Fe Springs from 1980-81.
Coach McGuire graduated from Loyola-Marymount University with his Bachelor Degree majoring in Political Science in 1974. He then earned his Secondary Credential in 1975. In 1997, he earned his Masters in International Affairs from CSU Sacramento.
Tom competed in football at Loyola-Marymount in 1970, 1972, and 1973, and San Jose City College in 1971.
Coach McGuire has continued his professional development by getting his USA Track and Field Level 1 Certification, and his USATF National Level Official Certification from 1998-present.
The California Coaches Association designated Tom the Boys Track and Field Coach of the Year in 2005.
Coach McGuire has led his team to many league championships:
Capital Valley Conference – 1993 and 1994
Metropolitan League – 1995-2002
Delta River League – 2007-2014
He has also mentored his team to several Sac-Joaquin titles in Division 2 in 1994, 1996, and 1998; and in Division 1 from 2008-2010, 2012, and 2013.
Coach McGuire's coaching philosophy is to help athletes set personal goals where they compete against themselves, constantly trying to improve; and to provide a competitive experience for any athlete who is willing to commit himself to the team for the season.
Tom mentions his greatest coaching moment is regardless of the outcome, watching great kids have their "championship moment" whether at the League, Section, or State Meet level. He does remember a couple of great moments. The first was in 1995, watching Mike Stember '96 win the 1600 meters at Cerritos College. And the second moment was in 2010 with R.J. Frasier '10, Loren Pilorin '12, Stephen Boals '11, Jeremy Hines '10, Keven Brown '10, Julian Wallace '12, Austin Mitsch '13, Nick Ridge '10 and Tosh Semlacher '10 giving their all at Buchanan High School in the State Meet.