Walt Lange
Head Cross Country Coach/Assistant Track Coach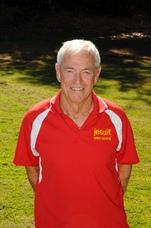 Walt Lange has been a member of Jesuit High School's coaching staff since 1970. He served as head track and field coach from 1977-1993. He has developed many fine runners serving as head cross country coach and assistant track and field coach. Coach Lange graduated from Loyola University of Los Angeles in 1965. Prior to coming to Jesuit, he coached cross country and track and field at St. Bernard High School in Playa del Rey from 1964-1968.
Walt was a competitive distance runner, competing at the high school, college, and post-college levels in track, cross country, and road racing from 1958-1983.
Walt has received numerous honors:
1981 California Coach of the Year (California Coaches Association)
Sacramento Meet of Champions Hall of Fame
2008 CIF Model Coach Award
2010 National Cross Country Boys Coach of the Year (NHSCA)
2010 Sac-Joaquin Section Hall of Fame
2010 Mr. SAC Cross Country Invitational Hall of Fame
2010 The Doug Speck Award (in recognition of the greatest passion for and contributions to the sport of Cross Country)
2013 Legacy Coaches Award (USATF Pacific Association)
In Cross Country, Coach Lange has guided his team to 38 Delta River League Championships from 1971-1978, 1980-2006, 2008, 2009, and 2012. During that period, Jesuit teams won 23 Sac-Joaquin titles: 1974, 1979, 1982-85, 1988, 1989, and1992-2006. Jesuit has captured nine California state team championships in Boys Division 2, a record.
Walt mentored seven individual state champions in the 1600 and 3200 events at the California State Track and Field championships, and one gold medal at the California State Cross Country championships.
Walt's coaching philosophy is that Jesuit Cross Country invites all those willing to make the commitment to daily pracitce. Everyone competes, no one sits on the bench. Cross country runners are challenged to reach their potential as athletes, students, and members of the Jesuit High School community, and have fun while doing it.
He adds that there are too many coaching moments to single out any specific athlete, but any runner reaching his potential on the competitive field has provided a great coaching moment.