Connecting to the Student Eye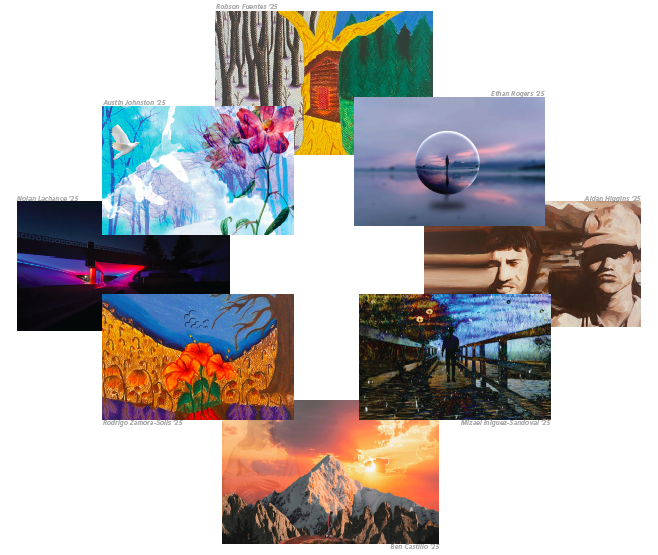 As the academic year drew to a close, the frothy squalls of homework gave way to the calm blue of exam books and now to summer skies. As the Summer season progresses, it is a wonderful time to view what the students' artistic eyes have seen. Their art, prose, photography, and poetry can connect one to calm and quiet reflection.
Bright Light of the Night *
Constantine Flesoras '24
In the Night sky, like a diamond, you shine, so bright you light up the world. Scared of me, you are not, but guide me you do. Oh forever companion, I would be lost and lonely without you. To you must I thank, for all that you have done, I owe my life to you. My own father hates me, but you do love me so, beautiful companion in the sky. You truly are my light amongst the darkness of this world. I love you.
*In the print edition of our magazine we neglected to note that this poem written by Constantine Flesoras '24 was inspired by Mary Shelly's "Frankenstein" for an assignment in his Honors English class. We apologize for any confusion or misinterpretation.
A Monster's Decline
Max Weisner '24
Inevitable need for connection. A longing for a family's presence. Only imaginative reflection. A terrifying monster in essence. The most hideous of appearances. Almost robot-looking despite its heart. The clashing, longing interferences. The best of intentions, yet rends apart. Found a heart bulging with optimism. A morale filled with color, of delight. External edges, sharp as a prism. But towering faces, filled with a fright. The alienation of a childhood. Leaving one's soul splintered upon the wood
Mom
Carson Chastain '22
Someone might call her a gracious giver, but takes love to her heart like no other holding it dearest, gives me a shiver challenging life's all, she is my mother. More fierce than any strong warrior's pride, her gaze alone scares the mightiest God. Thoughts constantly trying to override, her mind painted beautifully, by Claude, every complex thought has her kid in mind. Suffers thinking if she is good enough, even to her enemy, she is kind, mother shows no feelings, I call her bluff. Constantly fighting in her mind mental, yet on the outside, she is so gentle.
A Boat Without a Sail
Colin McGhee '24
Not really knowing where I am going is what keeps me on the trail. The reason I have not given up already is that I do not know if it is real. Without the idea I am drifting aimlessly, like a boat without a sail. What gives a voyage meaning is the eventual destination. What gives that place its meaning was the hard-work and determination. But what if there is no payoff, no light at the end of the tunnel? Is it even worth the journey? Is it worth the hardship and struggle? What if there is no destination? When the journey is over there is nowhere to stay, and you have to leave your family and the friends you made along way. We will never know until we get there, so the journey is worth an attempt, and even if there is nothing there, the reward is in the time that was spent. Make the journey last because it does not last very long, and when it is finally over, we will find out where we truly belong. Keep on going even if the destination may fail because just the idea of it is what gives the boat its sail.