Encore, a Campaign for New Growth
Supporting the Black Box Theater and Drama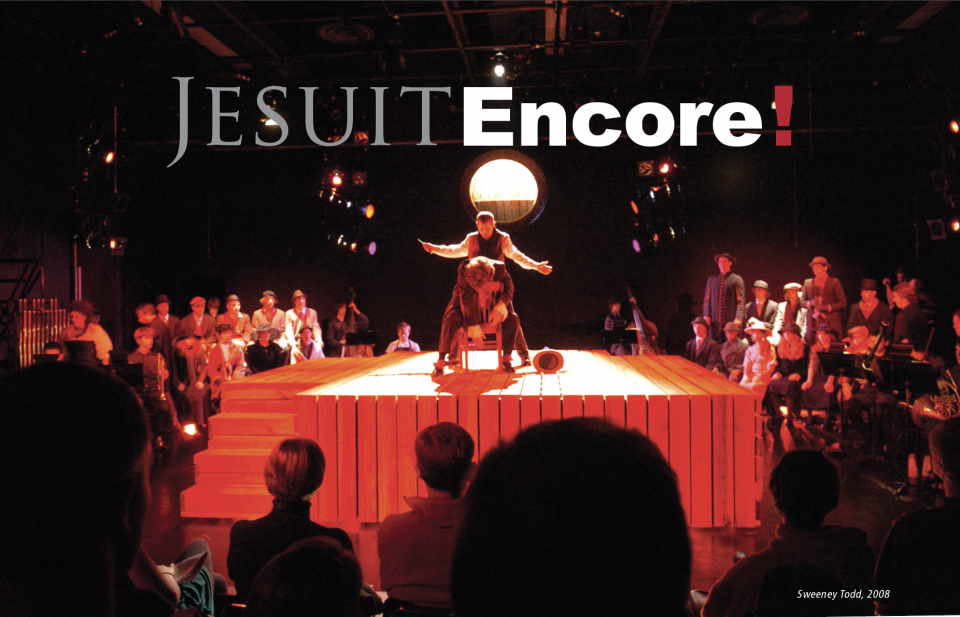 In 1969, the curtain went up on Jesuit drama for the first time as it produced the Pulitzer Prize-winning play J.B., a modern take on the Book of Job. And like Job, patience was needed. The show was performed in the gym's "Little Theater" which then became the wrestling room and in 2020 transformed again into the Welcome Center.
Thanks to Jesuit's benefactors, patrons, and audiences, in 2001 the talented students of Jesuit Drama were able to leave the Little Theater and move to shine on-stage to sold-out crowds in the Black Box Theater. This dedicated space for theater houses all of the planning, designing, rehearsing and performing aspects of drama productions.
And now it is time for new growth as we embark on the Encore Campaign.
As you sit in the intimate setting of the Black Box, you feel a shared experience with the actors on stage. Because of your support, our thespians can express their creativity in many ways – with original productions or by providing unique perspectives to classic works. The Black Box Theater (BBT) is the container that holds what happens within—it is the edifice that allows things to blossom.
In celebration of the 20th Anniversary of the BBT, we come together to look back and honor those that have walked this space and look forward to what will soon shine. Collectively—actors, stage managers, tech and lighting crews, set designers, program greeters, ushers, musicians, costume designers, and you—bring Jesuit blessings and care every time the curtain goes up.
Drama's artistic director, Ed Trafton '84, credits the program's success in large part to its continuity and its people: "The arts —specifically theater—have been a foundational part of Jesuit education since its beginning," he says. "We're so blessed here at Jesuit to have our own long tradition to draw from." That, he continues, plus a dedicated staff of theater professionals (many of whom are alums) has allowed the program to expand over the years and provide its wonderful and talented students a strong student-centered, process-oriented program in the Ignatian tradition.
"From coast to coast, from Jacob Lane to Broadway," Trafton says, "there are many Jesuit Drama alums working in the business, and we love welcoming back them and all our alums to the Black Box, to what we hope they feel is 'home.'"
We invite you to enthusiastically applaud these alums and our future Black Box stars and also help provide "an encore" as we give our theater space a refresh later this winter. Your support will provide new theater seating, update interior finishes and create the visible presence our Black Box deserves that will greet you as soon as you step onto the Harris Center promenade. Your donations will allow us to highlight our storied history, promote our current productions in new ways and enhance the audience experience.
On behalf of all of us involved in Jesuit Drama, thank you for your support!