Let Jesuit Ignite the Fire in Your Son
Terry Street '72 advocates for the life-changing affect Jesuit has on your sons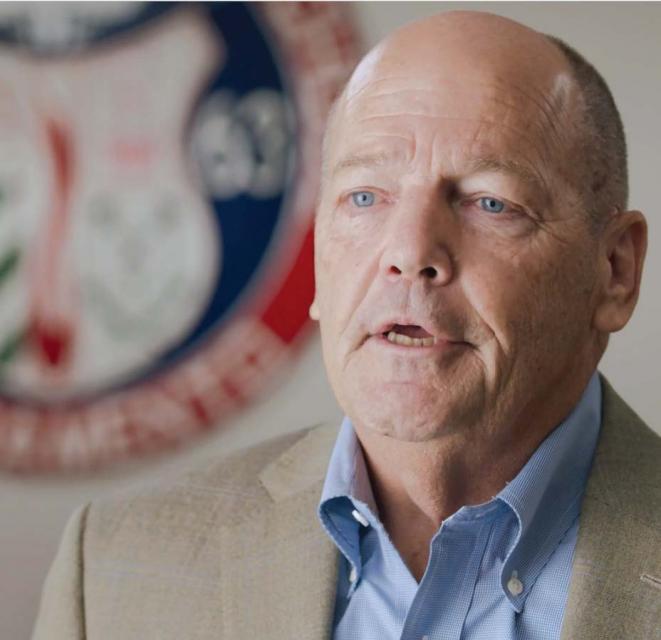 Sending your son to Jesuit is a decision that will profoundly change his life—I know because my parents' decision to send me nearly 50 years ago and my decision to send my sons almost 30 years later changed my and my sons' lives forever.
The red and gold of J-High runs deep in my blood. I attended Jesuit from 1968 and graduated in 1972—Jesuit's 6th graduating class. I returned to Jesuit to serve on the Board of Trustees in the early 2000s and was honored to be named the second alum to chair the Board. I left the Board to help the Jesuits with their new project, Cristo Rey, but the pull of this place was too much and I have come back home to serve another term as Trustee.
My four years here changed my life. I grew up here. One of the most enduring characteristics of Jesuit is the expectation of excellence. When wise Ignatian educators welcome your young sons into this place with nearly 1,000 adolescent boys, your sons are met with the same love and attention that I felt and that my sons felt.
Here, Jesuit will challenge your son in the all the best ways. Jesuit senses the greatness that lurks just below the surface in each of its students. Jesuit treats your sons—its sons—like the budding young man he is. Jesuit challenges your son to be his very best. Jesuit does this not by hoping for the best, but by expecting it.
Jesuit's entire curriculum from Theology, to drama, from baseball to physics, from rugby to Spanish—the entire curriculum is designed with one goal in mind—to change your son's life for the better. To instill in him that he was put on this earth not just to be good but to be the best he can be. More than that, Jesuit will push him not to measure himself by what he has or what he achieves, Jesuit will build a fire within him—a burning desire to measure his life by what he does for others.
It happened to me more than 50 years ago, and to my sons nearly 30 years ago, and it will happen to your son—if you let it.
I can tell a young man who's going to Jesuit or graduated from Jesuit by how he looks you in the eye, shakes your hand, and introduces himself.
The first thing you can do to help is to get out of the way and let the Jesuits do their work. They have been doing this for more than 450 years and they know what they are doing. Resist the temptation to advocate for your kid. Let him fail. Now is the time for him to learn that there are consequences when he forgets his lunch, or his homework or dress attire.
Let him get a JUG. It is not a mark on either his or the family's honor. JUG is a part of learning. No one will judge you as a parent or your son by whether or how often he spends time cleaning up the campus or writing an essay on How High is Up.
The second thing you can do is to support your son by encouraging him to spend time here on campus. Make him—bribe him—to join the many clubs or even just be and stay with friends on the beautiful facility after classes. Encourage him to go to the various athletic events and plays to support his fellow Marauders. The more time he spends on this campus, the hotter that fire will burn in him.
And lastly, you, too, as parents or community members can be active with Jesuit. Without your time with the Boosters or the Loyola Guild, many of the great traditions here at Jesuit would not be able to happen. Give, in any amount, to campaigns and causes that speak to you and support these young men. Jesuit relies on its donors and partners to educate and fulfill its mission to provide life foundations.
Please get engaged; it'll last you far more than the four years your son is a student here.
I am so glad you chose Jesuit—believe me because I know—you chose wisely. Thank you for being a part of the Jesuit family and, Go Marauders.