Taking it to the Next Level
33* Student-Athletes Sign Intent Letters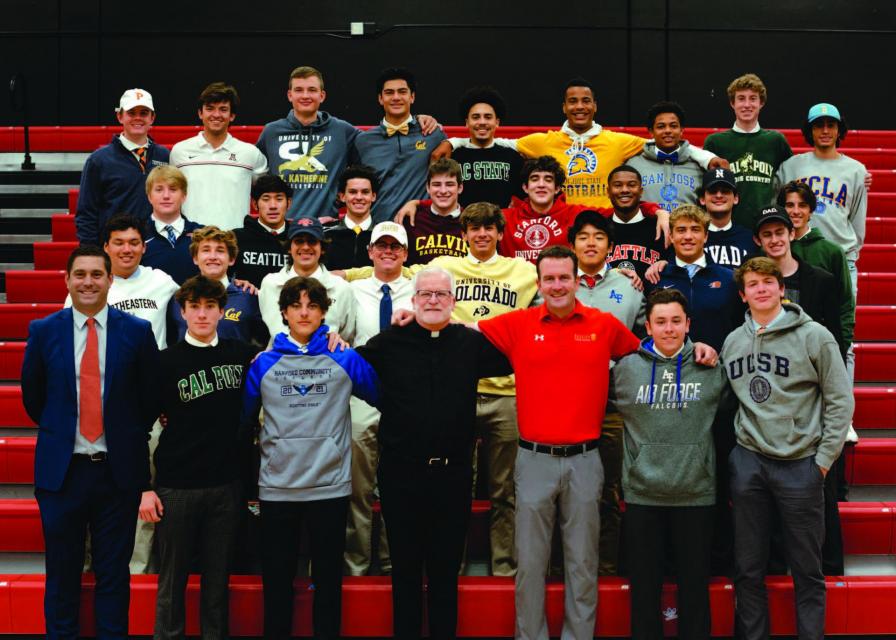 These Marauders joined an elite pool of high school athletes who signed their letters on the same day at ceremonies across the country. On average, only about 4% of high school students will
go on to play a college sport annually.
"Ultimately, the development of each student's character is at the heart of what we do at Jesuit, and participation in athletics is a powerful instrument for this goal. As these student-athletes now continue their sport at the collegiate level, they are prepared not only to thrive but to excel—on the fields, in their classes and as Men for Others," said Athletic Director Hank Weinberger.
* Due to the nature of the Class of 2021 recruiting during the pandemic, additional Marauders may have also gone on to play college athletics.
Baseball
Anthony Susac, Arizona
Devon Walzcykowski, Pepperdine
Colton Wuelfing, Regis
Basketball
Gabe Dirksen, Calvin University
Chris Holley, Sacramento St
Isa Silva, Stanford
Cross Country
Michael Chambers. Cal Poly SLO
Spencer Pickren, Cal Poly SLO
Ajani Salcido, UCLA
Diving
Jakob Marrone, Cal Poly SLO
Football
Keleki Latu, Cal
Nate Lewis, San Jose State
Golf
Jack Deaner, CSU Monterey
Lacrosse
Segen Chambers, Illinois Wesleyan
Jack Chastain, LSU
Jesse Clark, Harford
Camden Dwelly, Chapman
John Marks, Colorado
Vincent Micheli, St. Mary's
Carlo Pedroncelli, Nevada Reno
Rifle
Carlton Liden, Air Force
Rugby
James Econome, Northeastern
David Hause, Cal
Tucker Johnstone, Arizona
Soccer
Elijah Beverley, Seattle
Jerry Godfryd, San Jose State
Swimming
Nicholas Lanting, Seattle
Track & Field
Eitan Goore, UC Santa Barbara
Ian Menz, Harvey Mudd
Volleyball
Boris Horiuk, St. Katherine
Taylor Marks, Cal Lutheran
Water Polo
Mitchell Bugalski, Bucknell
Jacob Yi, Air Force