Barry Gym Update — Commercial HVAC Installation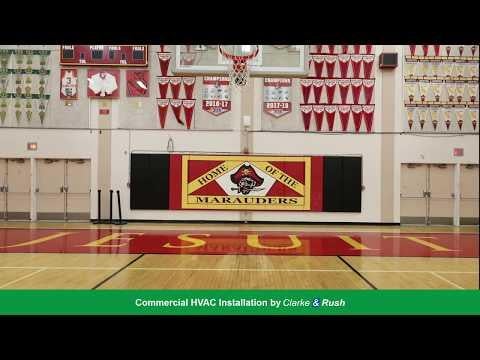 As our Barry Gym project moves into Phase 2, we want to share this visual story of the Phase 1 installation. Here is a piece produced by Jesuit Sacramento HVAC contractor, Clarke & Rush.
Clarke & Rush worked on an iconic Sacramento HVAC project – the installation of air conditioning on the historic Fr. Joseph Barry S.J. Gymnasium at Jesuit High School.
Clark & Rush was contracted to install HVAC units at the school. When first constructed in the mid-sixties, the gymnasium and adjacent annex, or "Little Theater" as it was known at the time, only had heating. The Sacramento HVAC contractor first removed three rooftop heat only air handlers, then reinstalled three new Trane air handlers fitted with chilled and hot water coils. Also, they fit all the water piping associated with the units with chilled and hot water coils. The addition of the chilled water helps with the cooling of the gym and theater providing a more comfortable learning environment for the students, staff, and spectators.
The project began in June 2019 and the gymnasium and adjacent gym annex heating and cooling systems were completed in August to welcome student orientations for the start of the 2019-2020 school year.
About Clarke & Rush
Clarke & Rush is a full-service Commercial and Residential HVAC company. For more than 5 decades, the family-owned company has been passionate about community partnerships and supporting the future of our great region.
HVAC installation is not all that this company does. Clarke & Rush offers a menu of home services including, window installation, plumbing, attic and wall insulation, gutter installation and more. They are your full-service contractors with the best trained and innovative technicians in the business.
"We were honored to be considered for the project. We know the Jesuit Board has many Sacramento Contractors to choose from. Our company sincerely values being involved in working with one of the most iconic private high schools in the region. Their team has been a pleasure to work with," Par Rush, owner Clarke & Rush.
Learn more at https://www.clarke-rush.com/