Jesuit Valedictorian Named U.S. Presidential Scholar
Donovan Jasper '21 selected as one of 161 outstanding high school seniors in the United States.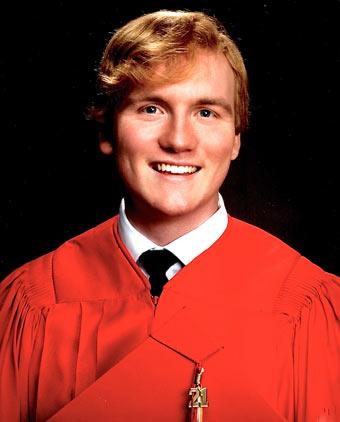 Sacramento, CA – U.S. Secretary of Education Dr. Miguel Cardona announced this week that Jesuit High School of Sacramento senior Donovan Jasper is a 2021 U.S. Presidential Scholar.
Jasper, who resides in Granite Bay, CA, and will be attending Stanford University in the fall, was chosen as one of 161 outstanding American high school seniors out of over 6,000 final candidates who have demonstrated outstanding academic achievement, artistic excellence, technical expertise, leadership, citizenship, service, and contribution to school and community. Of the 3.6 million students expected to graduate from high school this year, the 2021 awards were determined by outstanding performance on the College Board SAT or ACT exams or through nominations from Chief State School Officers or other partner recognition organizations, including the National YoungArts Foundation's nationwide YoungArts™ program.
"The 2021 Presidential Scholars represent extraordinary achievements for our extraordinary times," said U.S. Secretary of Education Miguel Cardona. "I am delighted to join President Biden in saluting these outstanding young people for their achievements, service, character, and continued pursuit of excellence. Their examples make me proud and hopeful about the future. Honoring them can remind us all of the great potential in each new generation and renew our commitment to helping them achieve their dreams."
Jasper is a very involved student and exemplifies being a Man for Others – participating in numerous extracurricular endeavors including Chamber Choir, Campus Ministry, Cyber Security, Mathletes, and Varisty Swimming on-campus plus training and competing at the elite level with the Northern California Dance Conservatory.
"Donovan Jasper is an outstanding example, among so many, of what can happen to these young men when they come here for education and formation. Their gifts are highlighted and challenged, and they have the opportunity to thrive and grow in a deeply values-based and faith-based environment of academic excellence, co-curricular involvement, spiritual and religious formation, " shared Rev. John P. McGarry, S.J., president of Jesuit Sacramento.
As a U.S. Presidential Scholar, Jasper had the opportunity to name and have honored, his most influential teacher. The teacher chosen for recognition by Jasper was Justin Tsai, who will be honored as a distinguished teacher with a certificate and a personal letter from the U.S. Secretary of Education.
About Presidential Scholars
As directed by Presidential Executive Order, the 2021 U.S. Presidential Scholars are comprised of one young man and one young woman from each state, the District of Columbia and Puerto Rico, and U.S. families living abroad, as well as 15 chosen at-large, 20 Scholars in the arts and 20 Scholars in career and technical education. Created in 1964, the U.S. Presidential Scholars Program has honored over 7,600 of the nation's top-performing students. The program was expanded in 1979 to recognize students who demonstrate exceptional talent in the visual, literary, and performing arts. In 2015, the program was again extended to recognize students who demonstrate ability and accomplishment in career and technical education fields. Read a complete list of 2021 U.S. Presidential Scholars is available at http://www.ed.gov/psp/.
About Jesuit High School Sacramento
Jesuit High School (JHS) is a Sacramento regional Catholic high school that provides young men with a life-building experience. Founded in 1963, the school delivers an academically rigorous college-preparatory education to graduates prepared for lives of leadership and service. Student enrollment is approximately 1070, representing diversity in geography, ethnicity, religious affiliation, and socioeconomic background. JHS draws from more than 90 zip codes throughout the Greater Sacramento Area, with 99% of graduates going to college or university.