Mock Trial places 5th overall, finishes in Quarterfinals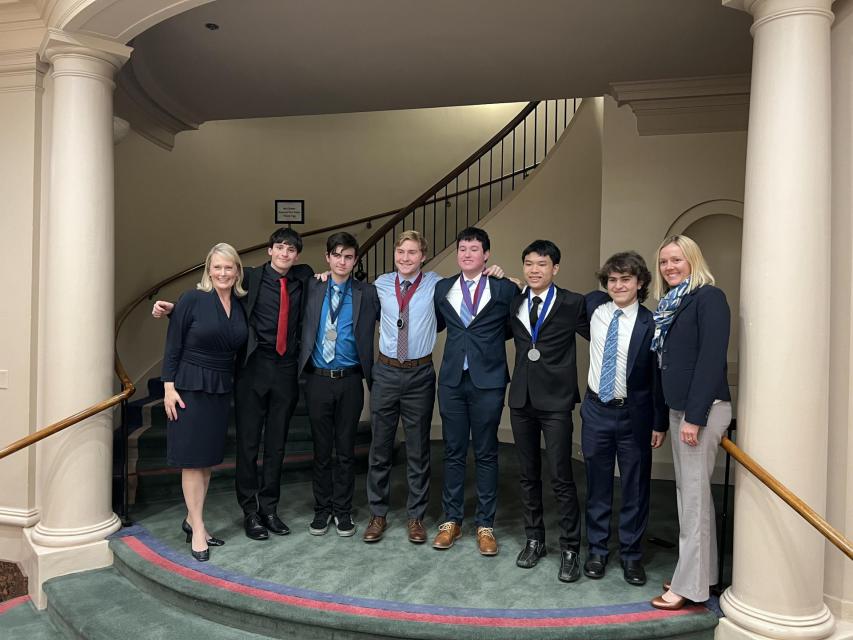 Congratulations to Mock Trial for placing 5th out of 20 teams. We also want to recognize the following student award recipients for their accomplishments as they finished their Gordon D. Schaber Mock Trial & Moot Court Competition for the year.
John Covert '24, Best Bailiff
Luke Kriss '23, Best Attorney
Matthew Ferrara '23, Best Attorney & Team MVP
Enoch Cheng '23, Best Witness
The Jesuit Mock Trial team competed in the quarterfinals of the Gordon D Schaber Mock Trial Competition. Jesuit concluded the regular season in winning fashion as the Defense Team secured a 3-ballot sweep against Christian Brothers in Round 4. With a 3 – 1 regular season record, Jesuit entered the quarterfinals as the 6th seed and faced off against 3rd seed Natomas Pathway Prep – the only team to have defeated Jesuit in the regular season.
As in every round, opposing attorneys argued the case of The People v Franks – a battery and burglary case involving the fictional cast of a cruise-ship theatre group and their performance of Macbeth at Sea. Luke Kriss received MVP honors for delivering an incisive closing argument while Zach Michelena scored highly for impeaching a key defense witness. However, the Marauders fell short as Jesuit narrowly lost the third and final ballot.
Despite this year's early playoff exit, the Jesuit Mock Trial team anticipates a solid return to the Sacramento Superior Courtroom in next year's competition. The Jesuit Mock Trial Team is an elective open to all students. For more information, please get in touch with team captains Luke Kriss '23 or Matthew Ferrara '23.