Turf Update
Loyola Field Warranty Replacement Underway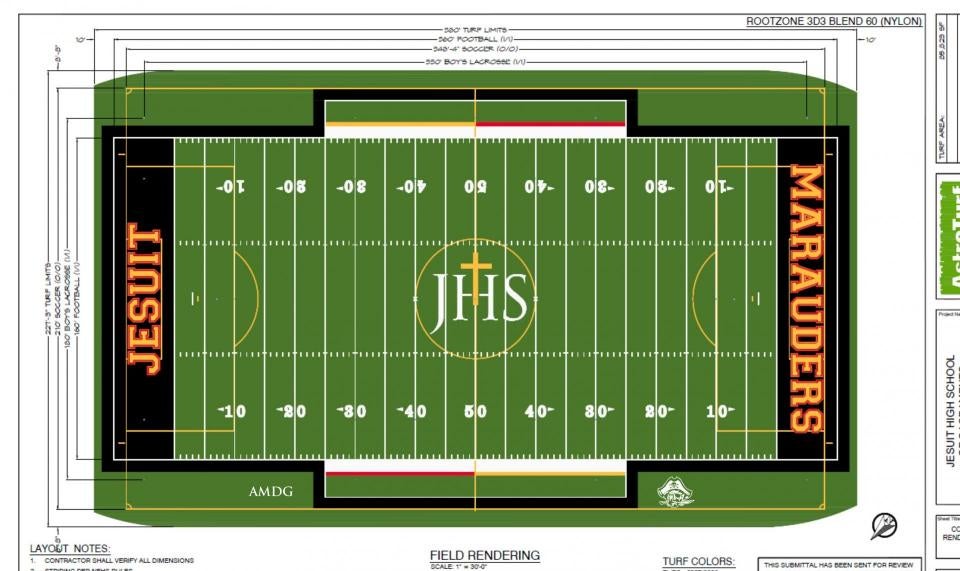 After not having use of home turf for the end of the winter soccer season and all of the spring season, we finally have some great news on the warranty replacement – work is beginning this week. AstroTurf will be on-site starting demolition of the top layer and other work over the next 4-5 weeks to complete the project, which will see a new surface and graphic field design.
The field had not been in use since a notification to Jesuit by AstroTurf in February 2022 of a warranty issue with the turf, At that time Jesuit chose to act out of an abundance of caution and temporarily relocate most activities that utilize the field turf. All competitive sports practices and contests were shifted to other locations.
With this new field surface comes an update to Jesuit's field graphics. The new design is intended to:
Prominently place our Catholic identity centerfield with the JHS+cross as the main image. Many Marauders also closely identify with this logo, as it is emblazoned on the majority of our sports team's helmets and athletic polos.
Pull in our primary school colors on each side in the coaches' box area.
Incorporate the motto of the Society of Jesuit with the placement of AMDG adjacent to the players' box. The AMDG is also within the sightline of our alumni and family bleacher sections. Each season, this will be applied via a stencil and turf paint and can be moved to additional areas.
Maintain our school pride with the mascot oriented to be in front of the Galley Crew bleacher area. Each season, this will be applied via a stencil and turf paint and can be moved to additional areas or placed in multiple locations for more emphasis.
Spirited end zone lettering that mirrors the new baselines in the Barry Gymnasium.
Allows soccer see their field of play and goal-line with intentional end zone lettering placement and background color.
An overall design that makes a bold statement with a collegiate feel and a contemporary look by adding a wide black border.