Andrej Stojaković shoots for the stars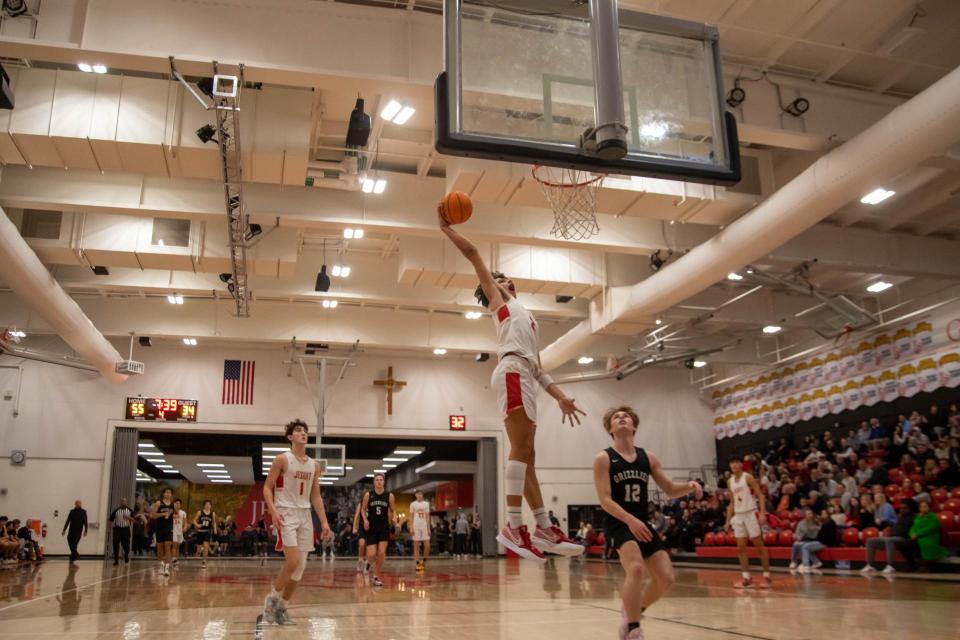 During his four years at Jesuit High School Sacramento, Andrej Stojaković '23 has not only grown as a basketball player (he is currently ranked as 24th best recruit in the Nation according to the ESPN 100 Ranking Index for 2023) but also as a leader and person.
Andrej credits Jesuit for helping him find who he is and who he wants to be going into the future.
"Ever since I started here, freshman year, it's been amazing and [the school has] helped me become the man I am today, and helped me discover a lot of my characteristics, and also what I want to do in life," Andrej said.
Reid Jones '23 has been playing basketball with Andrej since freshman year, and has seen the transformation that Andrej has made on the court since they first met.
"I played with him on JV, freshman year," Reid said. "We were kinda like a little duo all four years, and obviously when we went to COVID, I did not see him for a long time, and when he came back he was just like a completely different basketball player, and he obviously grew a lot in height and skill."
Andrej believes that the friends and relationships he has made at Jesuit will last longer than his four years at Jesuit.
"Pretty much all of my friends here [have had an impact on me]," Andrej said. "I have maintained a relationship throughout all four years, so I believe those relationships will last forever, and [I'm] just super thankful for that."
Reid also sees how Andrej has stayed close with his friends, and always remains humble despite his growing popularity.
"Through all this, I mean with the attention he has gotten too, he has remained humble, and you know I don't think anything has changed with our friendship," Reid said. "I mean we talk about the same things; he doesn't act better than me, and even with all the attention, it's the same."
Head Coach Tim Kelly is excited about what Andrej will do on the court the next four years at Stanford University.
"I am really excited for him," Coach Kelly said. "Stanford is a great school; it's got a great basketball program, and I think he is going to have a really great opportunity to get on the court and play there and contribute."
Andrej's growth as a player and student at Jesuit has thrust him into the spotlight of the basketball world and has made him one of the must see players entering the Pac-12.