Brandon Moreno '23: running ahead to show the way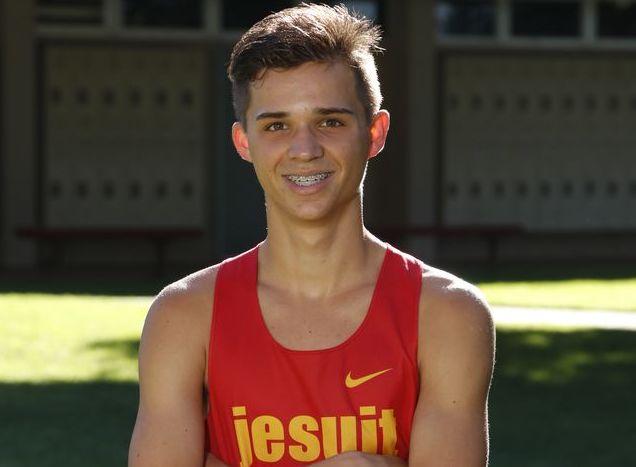 Brandon Moreno '23 will graduate in the spring having grown into an elite distance runner, an outstanding student, and a valued member of the Jesuit brotherhood.

After transferring into Jesuit High School Sacramento his junior year, Brandon made a name for himself in both cross country and track. Cross Country Coach and science teacher Mr. Nick Lai believes Brandon's reliable work ethic was the reason for his success in his career as a Marauder athlete, especially in the postseason.
"I didn't know of him before he came, so I wasn't really aware of his times," Mr. Lai said. "But especially from cross country to track last season, he definitely made a lot of improvement. He put in a lot of work, and he made it to the State Meet, so it was a very impressive season for him."
In terms of athletics and academics, Brandon found the adjustment to Jesuit to be fulfilling and ultimately the right decision after some early challenges.
"It took me a while to find my groove when I transferred here post-sophomore year," Brandon said. "But once I found and got to know a decent amount of people, I really feel like this was the place I was meant to be all along. I'm glad I've been able to finally surround myself with the amazing people that I am not just friends with, but brothers with."
Jonah Reynolds '24, a fellow teammate and friend of Brandon, can attest to Brandon's running ability, as well as his commitment and character.
"Brandon is a very kind-hearted person," Jonah said. "He's always looking for ways to help others. He's always looking for ways to boost morale on the team, and amongst friends groups. In terms of athletics, he's very fast, very hard-working, very determined."
Echoing Jonah, Mr. Lai applauds Brandon's dedication to the team and the sport, highlighting how his behavior influences the team's younger runners.
"I definitely see the younger guys looking up to Brandon, following his example," Mr. Lai said. "Brandon does a lot of stuff outside of running. He stretches and does a lot of core work on his own and it's part of what makes him successful. He researches the sport a lot, which is good for the younger guys to see."
Looking towards the upcoming track season and beyond, Mr. Lai is confident that Brandon can achieve his goals of becoming the best runner he can be.
"Brandon has really high hopes for himself," Mr. Lai said. "We expect a lot from Brandon. He's really motivated; he's really driven. He's hoping to set a PR (Personal Record), maybe go under 4:10 for 1600m. He is definitely wanting to run at a D1 school, so he definitely has the work ethic for that to succeed as an athlete."
Brandon will leave having greatly impacted the Jesuit community not only as a distinguished runner, but as a student and a role model to his peers.