Charles Sander '23: catapulting his communities into echelons of success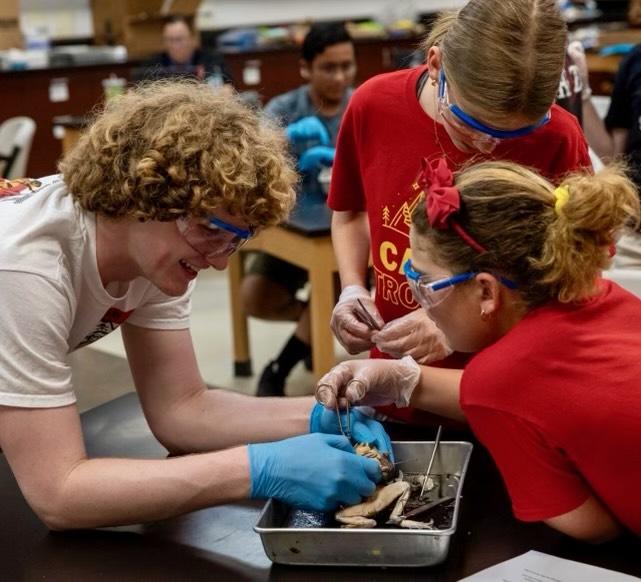 Jesuit High School Sacramento strives to form students into young men who are open to growth, intellectually competent, religious, loving, and committed to doing justice. Charles Sander '23 takes Jesuit's learning and growth expectations to heart in many of the opportunities our community has to offer, often in a leadership position.

"In addition to the wide range of academic offerings here at Jesuit, I've explored advocacy through the Service and Justice Department, music and singing through Choir, science and math subjects through Science Olympiad and Mathletes, and developed my faith and morality by attending and leading retreats," Charles said.
Charles holds many leadership positions in his teams and organizations. As a leader, he has empowered his classmates and co-workers to become confident in their own leadership capabilities by setting an example to follow.
"I would describe Charles as a natural leader," said Ali Zaidi '25, a co-member of the Echelon Catapult organization. "He knows when to be a leader and when to step back and listen. He's always willing to help out others and give constructive advice. He's taught me how to take initiative and, most importantly, how to work smarter, not harder. Whenever we work together, he always gives me great advice and an opportunity to take the lead."
Mathematics teacher Mr. Justin Tsai recognizes Charles as an outstanding leader and praises his ability to create positive impacts in his local community.
"I am very proud of Charles' accomplishments over the years," Mr. Tsai said. "With his can-do attitude and positive energy, Charles has brought people together to do great things. He is a multiplier who accelerates initiatives and broadens the positive impacts in our communities."
Of all his activities, Echelon Catapult holds a special place in Charles' heart. As CEO of the student-led science, technology, education, and mathematics (STEM) education organization, Charles is a founding member of the company and has seen it grow to become the successful non-profit that it is today, impacting more than 1,600 students since its founding in 2020.
"Inspired by my foster brother's ineffective online education at a local public school during the pandemic, I joined Echelon Catapult's founding team in my freshman year to provide enriching online STEM workshops to underserved middle school students throughout Sacramento," Charles said. "Not only do I love sharing my love for learning with younger students, but I've made some of my strongest high school friendships through Echelon's community of high school students dedicated to service and collaborative academic exploration."
Not only has Charles touched the hearts of his local community, but he has also made long lasting impacts on the lives of people on a personal level. Jake Swanson '23 reminisces about the amazing friendship he has been able to create with Charles throughout their years together.
"Charles has absolutely made my time at Jesuit better," Jake said. "He is a great friend whom I always know I can count on. If I need help, and ask him, Charles will always find time in his busy schedule to do so. He is one of the most accountable and sincere friends I have ever had. Whether it's Student Council, hanging on a Friday night, or studying for a test, I always know I can count on Charles to show up and throw his all into whatever we are doing."
Although he is still unsure where he will continue his education, Charles has identified his future career, pursuing the passions that he's discovered during high school.
"I'm not sure what college I would like to attend, but I'm hoping to study Cognitive Science, ultimately becoming a university professor, teaching college students while studying the neuroscience behind the learning process and informing education policy-making," Charles said. "Just like my work in Echelon, I aspire for a meaningful career—utilizing my passion for science to serve my community."
Charles has immensely impacted Jesuit and his local communities. He has been a model student leader, setting a meaningful path for younger students to follow. Wherever Charles finds himself, he will exercise his gifts and leadership to enhance and catapult his local communities to higher echelons of success.