Dylan Tsoi '23: distinguished tennis talent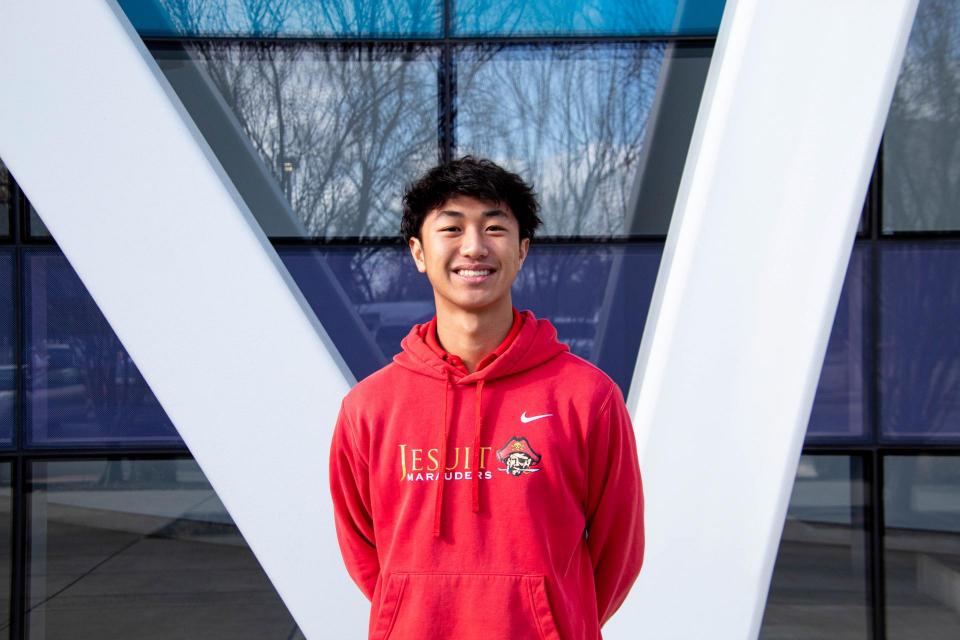 For the last four years, Dylan Tsoi '23 has been a hard working, compassionate individual. In addition to being an academically successful student, Dylan has excelled at playing tennis and being a "Man for Others" on and off the court.

When Dylan started attending Jesuit High School Sacramento, he was given the perfect opportunity to continue pursuing his passion for tennis–which began after he went through a meteoric rise up the national rankings in eighth grade–by joining Jesuit's tennis team.
"At Jesuit, I have played varsity tennis every single year," Dylan said. "Junior tennis is often an individual sport, but I have really enjoyed the team aspect of high school tennis. Having the support of my friends and teammates as I represent Jesuit has made me value teamwork, camaraderie, and the relationships you build through sport."
In addition to playing on Jesuit's tennis team as well as competing individually outside of school, Dylan has been able to take advantage of Jesuit's co-curricular opportunities and cherishes the friends he made because of it.
"This year, I am co-leading the business investments club, vice president of the pre-med club, treasurer for the Asian Pacific Islander Club, as well as co-founder and co-president of the Financial Literacy Club," Dylan said. "Through these clubs, I have found friends and peers with like-minded interests and backgrounds that have really made the Jesuit experience special."
While he is an outstanding tennis player and leader, Dylan is also an amazing student in the classroom. Mathematics teacher Ms. Kimberly Pell admires Dylan's work ethic and his desire to help those around him.
"[Dylan's] always ready with a smile and ready to help other people in the class," Ms. Pell said. "If people are having trouble, if we're working in groups, or even just working individually but somebody leans over and asks him for help with something, he's always happy to help his classmates out."
Charles Sander '23 echoes Ms. Pell's appreciation for Dylan's caring personality. He cherishes Dylan's reliability and willingness to support others.
"Dylan is dependable, and is always there to support and advise me when I'm having a rough time emotionally or academically," Charles said. "His compassion and drive to care for others have guided many Jesuit students through their struggles."
Dylan recognizes the role Jesuit played in helping him become the confident, compassionate man he is today, and he appreciates this school and all that it has done for him.
"Beyond my athletic successes here at Jesuit, I am most proud of how my time here at Jesuit has turned me into a more confident, compassionate, and intellectual person," Dylan said. "I've found that through my academic and [co-curricular] pursuits on campus, I have not only furthered my knowledge and skills, but I have also made friends and cultivated relationships that will last a lifetime."
Ms. Pell has witnessed Dylan's growth and praises his optimistic, mature personality.
"He is just a very nice person and really hard working," Ms. Pell said. "I feel like he is somebody that will try to do something really good for the world."