"Ghostbuster: Afterlife" perfectly blends old and new for a new generation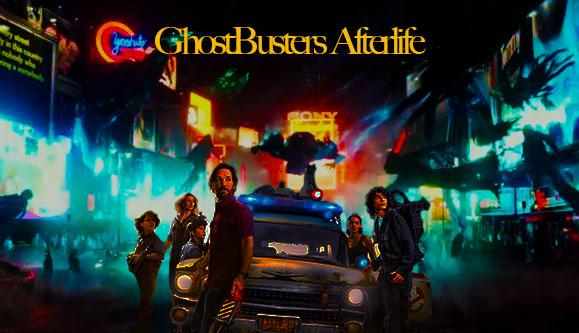 "Ghostbusters: Afterlife" was released by Sony Pictures on Nov. 19, 2021, and is produced by Columbia Pictures. The film is directed by Jason Reitman, written by Gil Kenan, Jason Reitman, and Dan Akyroyd, and stars Paul Rudd, Mckenna Grace, Finn Wolfhard, and many more.

"Ghostbusters: Afterlife" follows the story of Callie (Carrie Coon), her daughter Phoebe (Mckenna Grace) and son Trevor (Finn Wolfhard) as they try to adjust to their new life in Summerville. As they start to move into a house Callie's father left them, it becomes clear that Callie's father was more than just a "dirt farmer." He is actually Egon Spengler, a well-known Ghostbuster.
As Phoebe and her friend "Podcast" (played by Logan Kim) investigate more into Egon and what he was doing in Summerville, they discover something dangerous and sinister that is going to happen, and they are the only ones who can stop it.
One of the film's best aspects was its story. While watching the film, I was expecting another nostalgia fest that was just trying to get me to remember the 1984 "Ghostbusters." I was surprised to see that the film is actually a perfect blend of nostalgia and strong storytelling.
Throughout the film, we are introduced to these new characters, and we slowly watch them uncover this great and terrifying mystery. In the beginning, the plot feels generic and boring, but with the use of nostalgia filled callbacks to the original film, it keeps you hooked and entertained for the entirety of the movie. By the end, you are not just invested in the callbacks, but also intrigued by these new characters and how they take on this big and terrifying threat.
While the majority of today's films that are sequels, reboots, or spin offs try forcefully to shove nostalgia into your brain, "Ghostbuster: Afterlife" does it in such a way that the nostalgia feels justified, and actually enhances our understanding of these new characters and their personalities. This unique incorporation of nostalgia makes the audience actually fearful for the characters' lives and if they'll be able to stop such a dangerous threat.
Another great part of the film was the acting, most notably Mckenna Grace, Paul Rudd, and Logan Kim. These three actors were the most captivating, fun, and enjoyable part of the film to watch.
Mckenna Grace plays this nerdy and naive 15-year-old girl to perfection. She also does a great job at playing a curious character who finds an abundance of Ghostbusters gear and slowly discovers more about her family's past and who she wants to be. We see her character develop from an awkward 15-year-old to a more mature and risk taking adventurer. No one other than Mckenna Grace could have delivered such a great performance that made me completely forget she was an actress playing a fictional character.
The same goes for Logan Kim and Paul Rudd. Both work as great and notable side characters who add comic relief while also staying serious in tense moments. During the final battle, Paul Rudd and Logan Kim don't start cracking jokes about how ugly the villain is, rather they take it seriously to emphasize the seriousness of the situation.
The best part of the film is the directing by Jason Reitman because of his pacing and honorable callbacks to the first two films. If you didn't know, Jason Reitman is the son of Ivan Reitman, the director of the first two Ghostbusters films. Because of this, it feels like the direction of the film is very honorable towards the first two films while still incorporating some new flare. I enjoyed how Jason Reitman focused on showing respect to the late great Harold Ramis while also making his character, Egon, a big and impactful part of the film.
Reitman's pacing of the film is another fantastic and nearly perfect part of the production. Throughout the movie, I was never bored and I was constantly engaged. Reitman made sure each of the main characters felt equal in character development and screen time so that by the end, they felt like a fully functioning team of Ghostbusters.
"Ghostbusters: Afterlife" is a joy to watch because of its perfect blend of the old with the new, while never favoring one side. I would recommend "Ghostbusters: Afterlife" to anyone who is a Ghostbusters fan, or anyone that just wants to go see a fun family adventure. I give "Ghostbusters: Afterlife" a very rare 5/5 stars.