Jack Zill '23: talented musical leader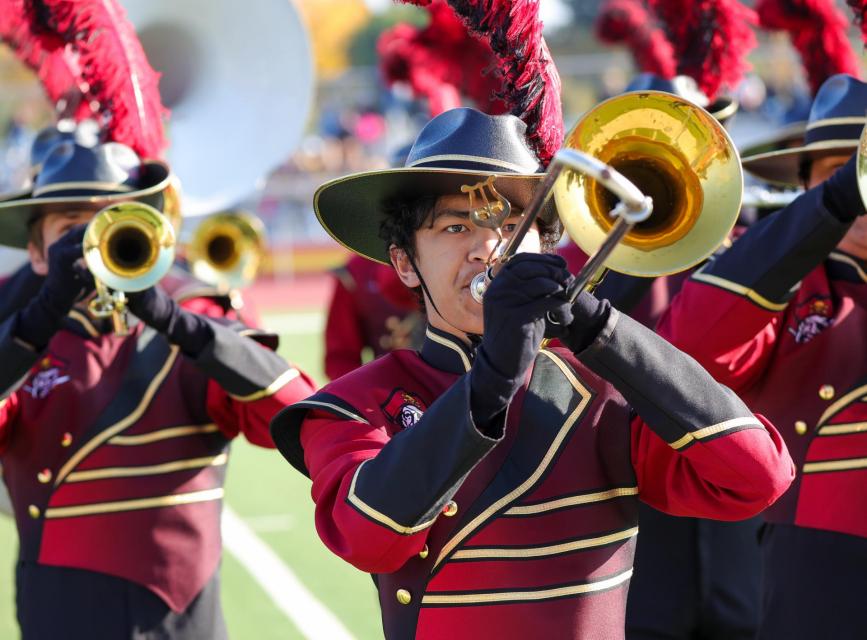 Jack Zill '23 started his journey at Jesuit High School Sacramento before he was even in high school; in fifth grade he joined the junior Marauder Band, where he met Jesuit Band Director Mr. John Cargile. From that point on Jack became a key part of multiple bands, and learned to play a variety of instruments.

"Jack is one of the most competent and broadly skilled musicians in my band," Mr. Cargile said. "He plays trombone in our marching band, bassoon in our Symphonic Band, saxophone in our Jazz Band and he modeled clarinet for me as a [Teacher Assistant] (TA) in our beginning band this year. He is also taking beginning strings as a senior to learn the cello."
Jack, who received a scholarship from California State University Sacramento for band, is well known for his ability to play the bassoon. However his talent expands beyond that.
"I've gotten really good at my main instrument, the bassoon," Jack said. "But during my time here at high school, I've gotten good at maybe four instruments, but I've picked up about 10."
Due to his many years of band experience, Jack is commonly seen as a mentor to younger bandmates. But to those he knows well, he's a dear friend.
"Jack's a good friend of mine, he has helped me in the Jazz combo and the Jazz Band as a whole helping me with getting better at solos and more advanced band stuff," said Patrick Brannan '23. "He's also just great to hang out around, we've gotten food together several times before and after performances, and it's always just a great time."
Jack's role as a mentor was officially recognized when he joined the band leadership team. He was chosen because Mr. Cargile, like Patrick, has seen Jack's ability to serve as a mentor to others.
"I can always count on Jack for anything that needs to be done, and when he was on my leadership team for marching band, often I didn't even need to ask him," Mr. Cargile said. "He is constantly looking for ways to invest his time, energy and effort into his peers to raise those around him up so we can all succeed together."
His charming and enjoyable personality is what helped him thrive in the social setting, however hard work and great time management are the things that have helped Jack thrive as a musician.
"He's a man that you can share a lot of different types of jokes and bits with," Patrick said. "But he'll also get down to it and get to work when work has to be done."
After spending many years in the Jesuit community, Jack knows this school quite well. He shares some advice for people who are new to Jesuit.
"Starting your journey here at Jesuit, there's a lot of opportunities ahead of you," Jack said. "So, just really take a look at what you can do, maybe ask the seniors around you what you can do, and then really plan ahead for the future so you can make the best of what you have here."
As both a friend and mentor, Jack has made a positive impact on many of the students here at Jesuit. With a bright future as a musician, Jack will continue to use his passion for music to help improve the lives of others.