Jayden Weathersbee '23: great leader, promising future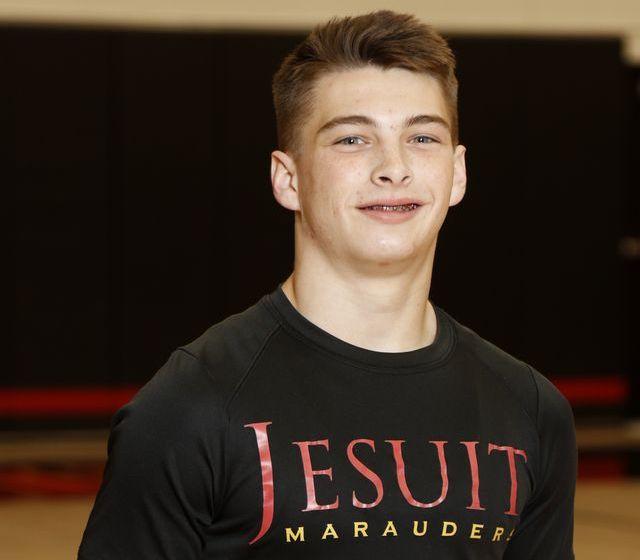 Throughout his time at Jesuit High School Sacramento, Jayden Weathersbee '23 has distinguished himself as a strong and capable athlete and leader on Jesuit's wrestling team, rising to captain for one of Jesuit's historically best wrestling teams. The sport, however, wasn't initially on his radar when he joined the Jesuit community.

"I started wrestling as a freshman, and it wasn't something I really considered prior to Jesuit," Jayden said. "I had a cousin who wrestled; my uncle encouraged me to wrestle. I tried it out, found out it was something I enjoyed, something I was good at."
In addition to being a great athlete, Jayden is an excellent student and leader. Grant Anderson '24, one of Jayden's friends and teammates, admires Jayden's methods.
"He's a great person, always talking to guys on the team," said Grant. "He's coaching kids up. Everyone looks up to him as a leader."
Jayden also strives to incorporate the motto "Man for Others" into his life. Jayden hopes to continue living out Jesuit values when he continues his education at the United States Military Academy at West Point.
"West Point is probably the perfect fit for me," Jayden said. "My family raised me with the idea of service before self [and] I think West Point is where it can continue making me a 'Man for Others' that Jesuit started."
Grant definitely finds Jayden to be a man for others and a very good friend. His time at Jesuit has been made better by Jayden's presence.
"He's a great all-round kid," Grant said, "I love him as a brother; he's one of my best friends at Jesuit."
Jayden is sad to leave Jesuit, and he cherishes everything that Jesuit has done for him.
"I have absolutely loved my time at Jesuit High School," Jayden said. "I can definitely say I'm going to miss it. I've met some great friends who I'll have for the rest of my life. Looking back on it, I wouldn't change a thing I did. I am super grateful for what Jesuit has done for me; I can definitely say I'm going to miss it."