Jesuit comes up big against Davis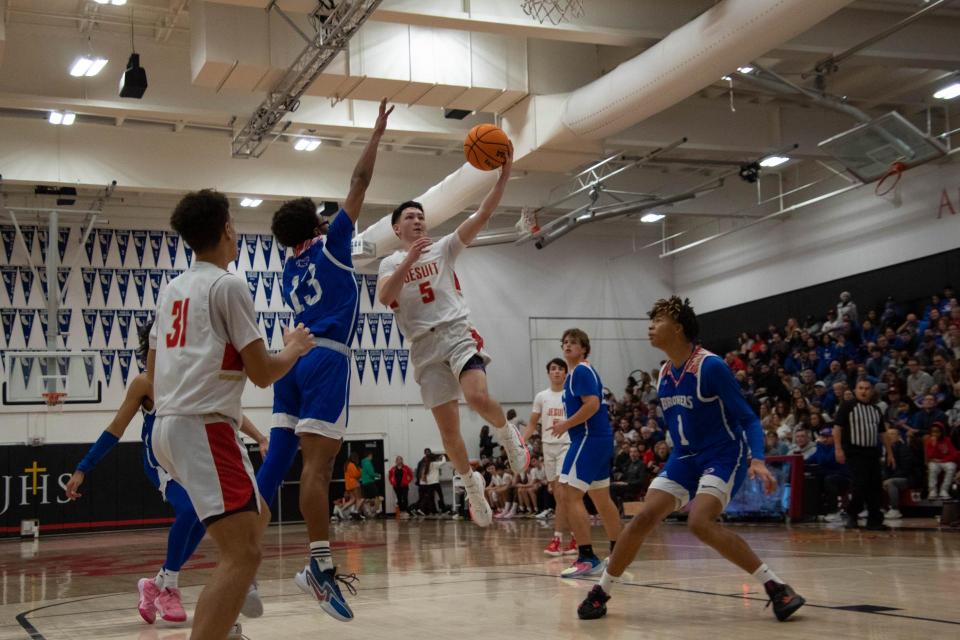 On Jan. 6 and Jan. 7, the Jesuit High School Sacramento Basketball team defeated Sheldon High School and Christian Brothers High School. Both games were blowouts and showcased the team's amazing ability to score and play well as a team.
Then, on Jan. 11, Jesuit extended their winning streak to four, defeatingDavis Senior High School with a final score of 78-49. The win gives them a record of 13-3.
Head Coach Timothy Kelly sees the wins against SHS and CB as two important games because of the plethora of injured players.
"Two good wins for us," Kelly said. "You know shorthanded without Andrej, Owen, and missing Will [who is out for the year] but just being short handed against good competition, they were two big wins for us."
Guard Reid Jones '23 feels very pleased about the wins against SHS and CB, even though the team was missing crucial players.
"We obviously prepared heavily for [Sheldon,] especially, [because we were] missing two guys in our starting lineup, but I am glad we pulled through and won by 20, which is a great win," Reid said. "Then [against Christian Brothers] we won, so that's always good when we beat a rival."
Facing SHS, coach Kelly was especially happy about the much anticipated debut of Kevin Haupt Jr. '24 , who had to experience a long transfer process.
"He was great," Kelly said. "After sitting out for the transfer period, it was really nice to have him back, and have him play like that in front of a big crowd was fun."
Forward Andrej Stojakovic '23 thought the team's win against DSHS allowed some players with less minutes to step up and play.
"I think we played really good," Andrej said. "We had six guys out, so guys, stepped up and got the job done."
The team plays against Folsom High School in a neutral game on Saturday, Jan.14 at SHS. Andrej believes the team couldn't be more excited to play, even with the consistent lack of players.
"We are excited," Andrej said. "We are still going to be a little shorthanded, but we think we have a pretty good chance."