Jesuit cross country finishes first at Cherry Island meet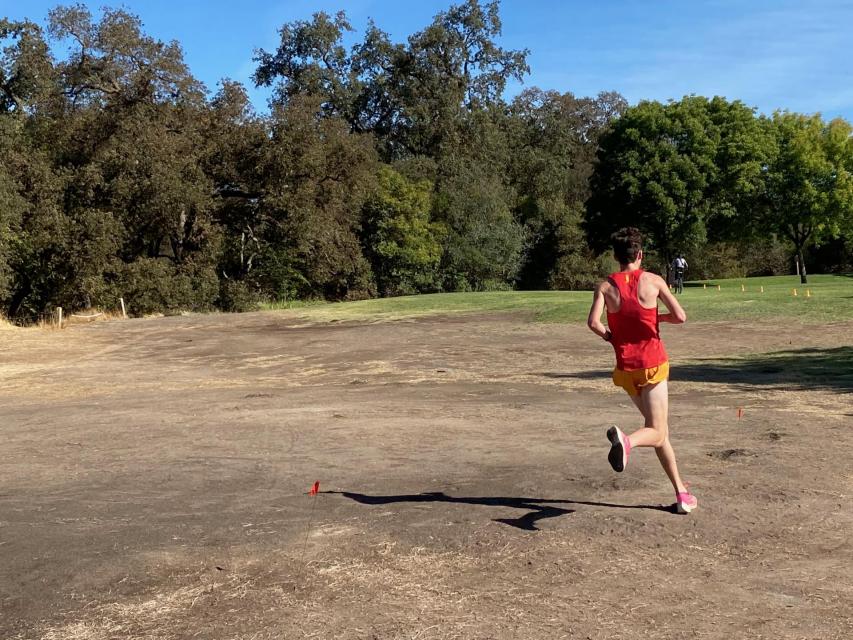 Jesuit High School Sacramento's varsity cross country team won the first league meet of the season at Cherry Island on Sept. 29. Jesuit's varsity team ran three miles for their race, beating Davis Senior High School by 17 points and finishing with an average time of 15:26.6.
The runners for Jesuit all finished in the top 15. Jesuit runner Braden King '22 finished in first place with a time of 14:12.2. Jacob Swanson '23 finished third with a time of 15:11.8. Branden Moreno '23 finished 4th with a time of 15:14.2. Preston Conner '22 finished eighth with a time of 16:03.9. Jonah Reynolds '24 finished 11th with a time of 16:30.5. Diego Levenfield '22 finished 13th with a time of 16:38.3. Ian King '22 finished 15th with a time of 16:45.8.
Cross Country Assistant Coach Tom Witzgall '98, attributes the fast times across the board to the offseason training as well as the training that the team has done in previous years.
"These guys have been training all year," Coach Witzgall said. "Most of them have been training hard for the past four years."
The whole team got outstandingly fast times at this meet, especially Braden with his time of 14:12.2.
"I got a [Personal Record] in the 3-mile by, like, a minute," Braden said. "I'm pretty excited about it."
With years of training under his belt, Braden knows that pacing is one of the most important parts of running. He attributes his running watch to his good time.
"[What went well was] my pacing; I had my watch on me so I was able to keep pace well," Braden said. "Pacing was the main thing that helped me out."
The fast times seen across the board can also be seen as a product of the flat course. Cross Country Head Coach Walt Lange pointed out how unusual it is for a cross country course to have no hills, as most cross country courses have uneven terrain.
"Fast course, flat as a pancake," Coach Lange said. "It's more like a race track than a cross country course."
Coach Lange also notes the many skilled coaches the team has, which he attributes to the success and performance of the team.
"The coaching staff that we have is fantastic," Coach Lange said. "We have six total coaches, very unusual on the highschool level, on any level it's very unusual. They are all quite good, know what they're doing."
After a successful meet at Cherry Island, the cross country varsity team has been training in preparation for the next meet of the season at Pleasant Grove High School on Oct. 9.