Jesuit golf team is on par to tee off the 2022 season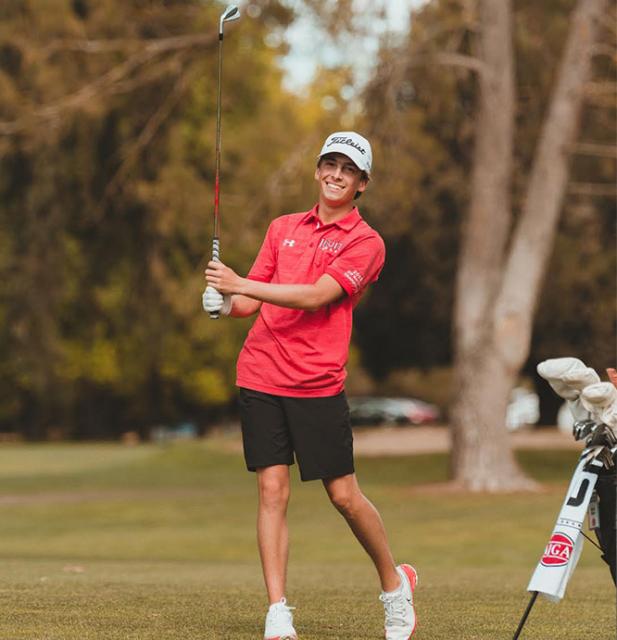 Golf is a staple of the Jesuit athletic community, and with this year's season teed up, the team is ready to drive, with their first competition being the De La Salle tournament at Diablo Country Club today, March 7.

Like many other sports, last year's golf season was cut short by the COVID-19 pandemic. JW Keating '23 is a varsity golf player who has been on the golf team for three years, yet has never seen a full season.
"Since I started at Jesuit we have never done anything, like in terms of state [competitions]," JW said. "My freshman year the season got cancelled and then last year half way through the season it got cancelled."
The first return to normalcy is tryouts. At Jesuit, golf is a cut sport. Out of 40 golfers eligible for varsity, only 12 are selected. They go through trial by fire, with 36 holes over four days where varsity hopefuls can take no more than 160 strokes.
Coach Siravo believes that the difficult admission process has resulted in a very strong and competitive team for this year's season.
"Overall, we have got a pretty great team," Coach Siravo said. "We have got 12 players on the roster, [and] everybody's excited to be out."
Varsity player, Brady Siravo '22, has committed to playing golf for Pepperdine University which is fifth in the nation for their golf program according to the NCAA. Even as a future Division 1 athlete, he realises the difficulty of the tryout process.
"Making the varsity golf team is extremely difficult and it provides a very competitive atmosphere," Brady said. "Normally less than half of the kids that tryout make the team. [Tryouts] show you who are the best players and who is able to handle the pressure."
Now that the varsity roster is set, JW looks forward to the season ahead and the possibility of travelling across the state, competing in tournaments, and having some fun.
"I never personally experienced it, but before I got here [the team] played a tournament in Palm Springs," JW said. "That would be a fun [competition] to go down […] and play well in."
There were 12 golfers selected for varsity, but out of these only the top six get to play in every tournament. Brady attested to how every person on the team needs to focus on teamwork to improve, while maintaining the right mindset and putting in effort.
"I believe that our strategy for doing well this year is to put the six best golfers on the course and let them play their game," Brady said. "We put in all the time and work so that when it comes time to perform we can relax and trust our teammates. Golf is a sport where it is so important to fight as hard as you can all the way until the last putt has fallen, and as a team this mindset could pay some serious dividends."
The team still has much room for improvement and the varsity golf team will practice dutifully. Brady believes that individual improvement will be a focus this year in addition to a championship.
"My goals for the team are for each player on the team to improve their games in any way possible," Brady said. "Of course I want us to win a Delta League title, a NorCal championship, and make a run at the state title, but I think it is important to focus on the big picture and the atmosphere we create which can be passed on through each generation of Jesuit golfers."
The results of today's competition will most likely set the tone for the beginning of this year's season; however, no matter the results, Coach Siravo and the players are committed to improvement and putting in the effort. This year's season will definitely be one to watch.