Jesuit volleyball aspires for success in new season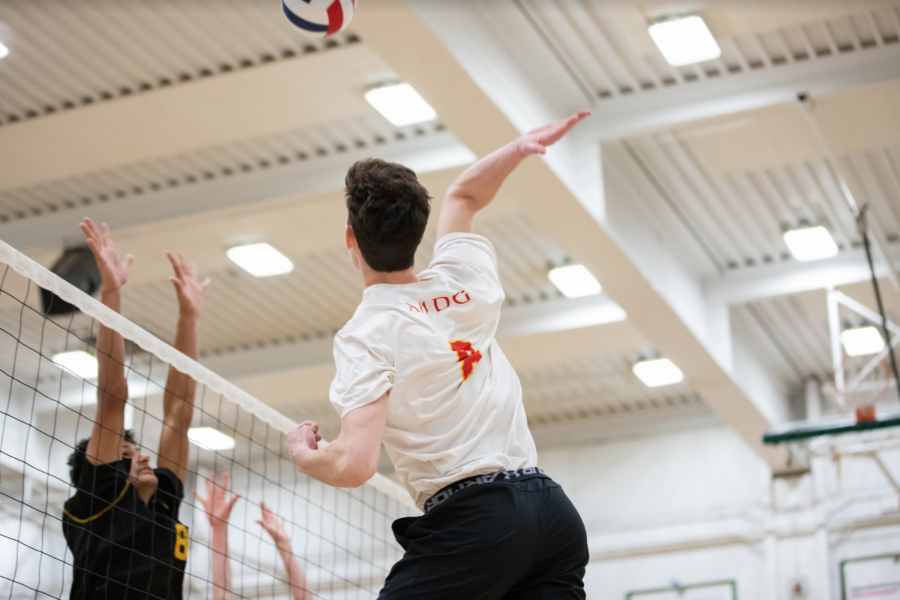 While Jesuit High School Sacramento has claimed many section titles throughout their athletics, its volleyball team is still searching for their first Section Championship.
Last year, the volleyball team finished with a 30-6 record, won the Delta League Championship, and made it to the Section Semifinals. With next season about to begin, everyone's goals are aimed towards this year's Section Championship.
"I would like to see the team do better than we did last season," said Head Varsity Volleyball Coach Sara Marks. "I do know that the boys would like to bring home a section pennant. Jesuit has not won a section championship yet, and I am pretty sure that is going to be at the top of their list."
To achieve its goal of winning a Section Championship, the team has altered its training methods in preparation for the season.
"We have added weight training in the off-season and that will help tremendously with our power game," said Coach Marks.
Besides practicing with the team, outside hitter and California Lutheran University signee Logan Marks '20, son of Coach Marks and brother of teammate Taylor Marks '21, worked on improving his own game during the off-season.
"I have improved my playing by lifting more [so that I can] jump higher, playing beach volleyball to learn more shots and to pass better, and watch more film to help with my form," Logan said.
Setter Jacob Weil '20 also focused on the small parts of his game to give the team the best chance at winning.
"As a goal for myself, I hope to improve upon my skills even more than I have and maintain a high passing rating on serve-receive," Jacob said. "I plan to improve on my skills in practice, and I have been practicing in the off-season by playing club."
Show up and support the volleyball team at their first game at Bella Vista High School at 6 p.m. on Friday, Feb. 28.
Harley Sherman '22, Copy Editor