Jesuit's nationally-ranked cross country team exceeded expectations for this season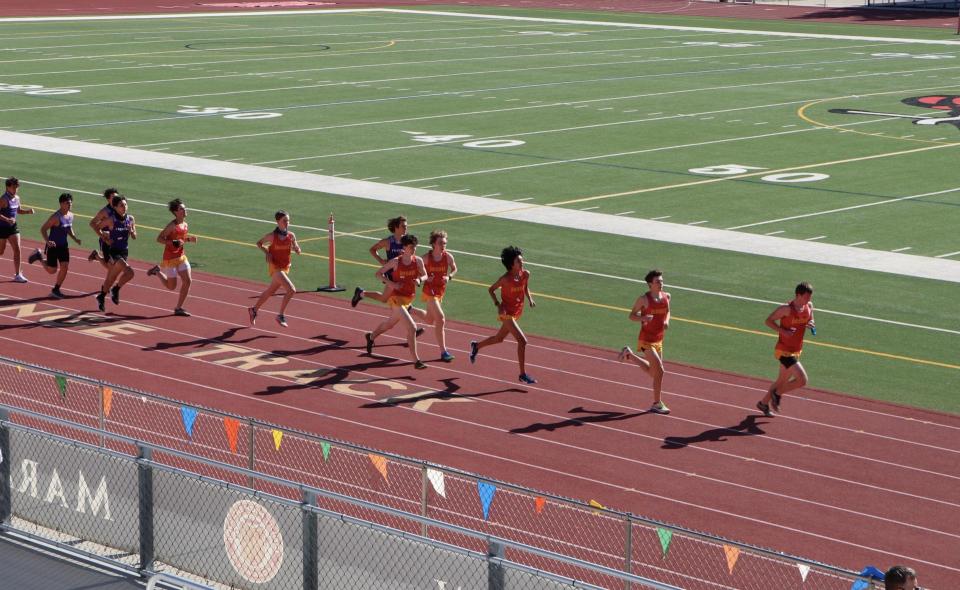 After not having a cross country season last year due to the COVID-19 pandemic, the Jesuit High School Sacramento varsity cross country team was finally able to compete this year. The team had a successful season finishing first in the Delta League, first in the Division I Section Championship, and fifth at the Division I State Championship.

The team made many adjustments and tried different groups, and continued to develop and improve as the season progressed. Cross Country Assistant Coach and Science Teacher Nick Lai explained how the season started slow, but improved over time.
"It took a long time for the whole team to actually come together," Coach Lai said. "It wasn't until the middle of October that our top five guys ran in the same race, but once we did that we started winning a lot of meets. It was a little slow to start, but it picked up near the end."
Braden King '22 was one of the top performers on the team placed tenth at the state meet and finished first in multiple meets this season. Despite his personal achievements, he credits their biggest achievement as a team to winning the section championship after facing many hardships.
"Our biggest accomplishment was winning the section championship," Braden said. "There was some very tough team competition, and despite illnesses and injuries, we were able to come out on top."
Jake Swanson '23 explained how their season was filled with a lot of uncertainty and changing lineups. Even though there were many challenges, they were able to overcome them as a team to become section champions.
"The varsity team is made up of the top seven fastest guys on the team," Jake said. "We never were able to run those top seven guys in the same race until the league championship. This means we went through around three months of racing with different groups of people and not knowing how we will look at full strength. When we finally did all come together, it was in the high pressure situation of the state championship, but the guys showed out and performed very well."
The pandemic hindered many opportunities last year and led to a lot of new beginnings and challenges to figure out.
It is difficult to predict how a season will turn out before it happens. With this in mind, Coach Lai explains that there was some uncertainty to how the season would unfold due to the inactivity last year.
"We really were unsure of how good we were because of that last COVID season," Coach Lai said. "There were many guys that didn't run at all last year that came back after a year off from running. Again, we were just a really young team."
Braden had set expectations for this year, but those expectations were far surpassed with their performances at different meets this season.
"My expectations for our team were beyond exceeded," Braden said. "I am very proud of our results and the progress we've made."
This year's team became very close, and Braden is proud of the growth each person on the team has made.
"Our team has grown a lot closer this year," Braden said. "I would consider my teammates a second family, and the progress I've seen everybody make as runners and people this year was outstanding."
Jake also expressed his feelings about the season and the members of the cross country team.
"All in all, I loved my cross country season and all the guys on my team," Jake said. "It is a special program at Jesuit."
Coach Lai is proud of the way the team performed and the way they went beyond every expectation.
"We weren't sure if we were going to win League, we weren't sure if we were going to win Sections," Coach Lai said. "They did both of those things and they placed really really well at the State meet. It was more than we expected at the beginning."
Over the course of the season the cross country team made many strides to improve and their growth was evident through their accomplishments this season. With the young team, hopefully the returning team can continue to improve and become state champions next season.