Lifelong robotics enthusiast Taylor Vicente '22 looks towards the future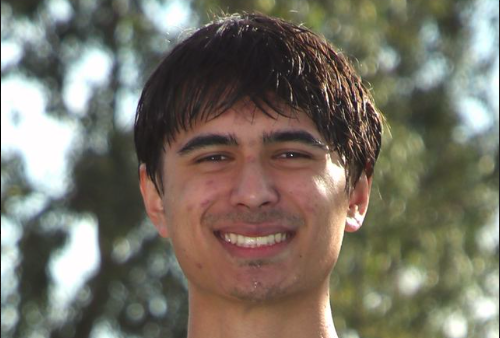 Taylor Vicente '22 will be remembered for his academic and co-curricular excellence. On top of being a high achiever in his academics, Taylor was an integral part of the nationally recognized robotics program at Jesuit High School Sacramento.

For Taylor, working at such a high level stems from a nearly lifelong curiosity about mechanics and engineering in general.
"I've been interested in robotics since probably second grade," Taylor said. "I was always fascinated with robots that I would see and read encyclopedias about STEM technologies as well as other mechanical things. Notably I remember building a model V8 [engine] in second grade. So it's definitely been a lifelong dream."
This attitude of inquisitiveness has had an effect on not just his work in robotics but also in the classroom. Assistant Principal for Academics and English Department Chair Mr. Colin O'Connor '04 has seen Taylor's growth in studying intricate topics in the AP Capstone program.
"Taylor has a conscientious heart and inquisitive mind," Mr. O'Connor said. "In the AP Capstone classes, I got to see him bring these two things together as he explored topics of interest for him. His AP Research project focused on experiences of test anxiety, and he approached it from a place of wanting to better understand the phenomenon and how it manifests for students based on the type of test or its perceived long-term implications."
Along with being a hard worker during the school year, Taylor also gives back to the community during the summer by taking part in an outreach program for kids who are seeking to learn more about robotics.
"I did Escalon Catapults robotics camp over the summer and that was really helpful to see how I could use my abilities to facilitate the growth of STEM interest in youth," Taylor said. "And I think definitely my engagement with robotics as well as the outreach portion of robotics definitely impacted my college applications positively."
Robotics teammate Charlie Diaz '22 affirms Taylor's genuine interest in helping the people around him as well as in striving to be the best person he can be academically.
"I feel like he would be not just a leader in industry from an engineering standpoint, but I feel like he also has the perspective of a person who wants to reach out and help people," Charlie said. "And on top of that, he would be a great asset to the community in helping others."
Taylor is grateful to his peers in the Jesuit community who have helped him discover passions and skills that will aid his endeavors in college.
"I think [my teammates'] hobbies and them including me on their personal projects outside of school helped me to find hobbies and interests that I wouldn't have otherwise discovered," Taylor said. "And it's definitely helped to lead me down the path that I'm on right now."
Mr. O'Connor believes that Taylor's observant and open-minded demeanor will also help him in college and in the workforce.
"I think the sky's the limit for Taylor," Mr. O'Connor said. "He had a taste of academic research last year in AP Research, and I could see him continuing to explore his areas of interest in that way in college and beyond."
Although this summer will mark the end of Taylor's four years at Jesuit, he has made a lasting impact on teachers and peers alike. All the hard work and dedication spurred on by his classmates and Jesuit as a whole will certainly show next fall at Purdue University in the aerospace engineering program.