Matthew Palchak '23: dedicated leader and loyal friend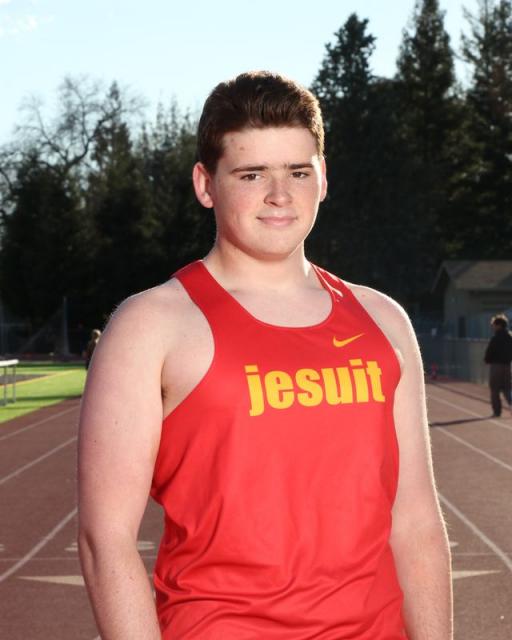 For Matt Palchak '23, Jesuit High School Sacramento's motto of being "Men for Others" has become an integrated part of his personality and life.
"I have learned many things inside, and outside the classroom, but I think some of the most important things are learning to serve others, and learning to work as a leader," Matt said. "The lasting impact Jesuit has left on me as a 'Man for Others' is to always be ready to help and serve others."
Matthew Ferrara '23 appreciates how Matt's loyalty, dedication, and friendship have impacted him and their track team greatly.
"[Matt] has impacted me because of his dedication to Jesuit Track and Field and his loyalty as a friend," Matthew said. "[Matt] has impacted our track team [positively] while also having fun and being a great friend to all of his teammates."
In addition to success on the field, Matt also excels academically. AP Physics teacher Ms. Amy Becker has witnessed Matt's intelligence and dedication firsthand.
"[Matt] is hardworking, studious, and conscientious," Ms. Becker said, "In class [Matt] is focused on what he needs to get done. He is dedicated to doing his best at the tasks he is presented with whether that be a lab or preparing for an exam. He is willing to put in the time to do things well."
English teacher Mr. Andrew Burrows '11 also knows Matt to be a fantastic role model for his classmates.
"[Matt] is exemplary; in other words, he sets an example that others around him can follow," Mr. Burrows said. "[Matt] sets an example when he displays his understanding or mastery of a subject, and also when he asks questions to help him better understand those ideas he is still working on."
Matt has enjoyed his final year at Jesuit, and he hopes he departs having left a positive influence on his peers and teammates.
"My last year at Jesuit has been very fun, and it is going well," Matt said. "As my last semester at Jesuit draws to an end, I hope to leave a lasting, positive impact on people that I knew, I hope that as I leave the throwing team continues to grow, and become leaders."