The Plunge 2.0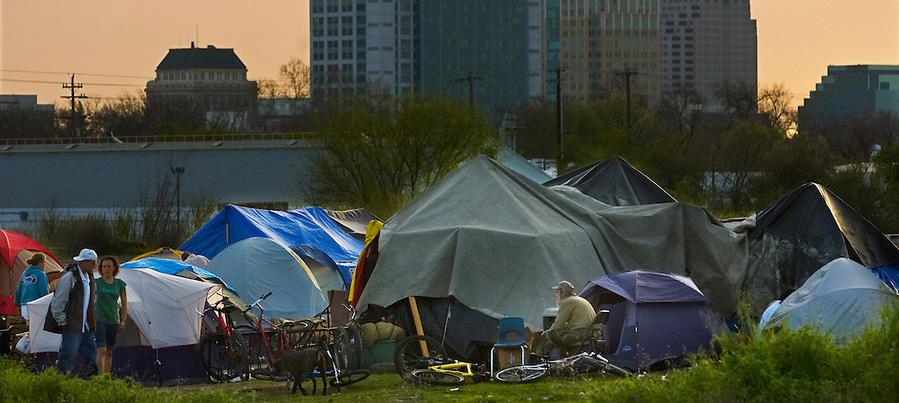 After a year-long hiatus, the Plunge is back at Jesuit High School. On October 3, four juniors and two seniors, along with four faculty, arrived at Loaves and Fishes to better their understanding of homelessness through a twelve hour urban immersion in which the students were in direct contact with Sacramento's homeless.
"After going on the Plunge, I realize that the homeless are really just human beings like us who are trying to get back on their feet. I think that we need to treat the homeless with more respect and dignity," said junior Marco Petrucci.
This year, the plunge has been modified due to new restrictions at Loaves and Fishes, which prohibit individuals under the age of eighteen from entering Friendship Park unless they are volunteering. Instead of spending the night at Loaves and Fishes like years past, students arrive at Friendship Park at 6:30 a.m. and leave at 6:00 p.m. Throughout the day, participants volunteer in Friendship Park, at the River City Food Bank, and at Quinn Cottages, all the while having the opportunity to interact with homeless individuals.
"The former Plunge did have an overnight format, where you're literally sleeping out in the cold on the hard ground and feeling what it's like to be homeless. This new plunge does not have that, but what I do think it has is direct contact with others, the chance to educate ourselves about homelessness and understand the dynamics of hunger in Sacramento. It inspires the guys to do more," said Mrs. Anderson.
The Plunge began with the participants getting dropped off at Friendship Park, where they were stationed at various areas within the park, such as the service desk, where the homeless can get odds and ends, or the wash house, where the homeless can take a hot shower and obtain new items of clothing. Next, participants traveled to the River City Food Bank, where they prepared for opening time and assisted shoppers with their groceries. At noon, the participants made their way back to Loaves and Fishes for lunch, where they split up and ate lunch with the homeless. Then, the group went to the Union Gospel Mission to see where the homeless can get a bed for the night. The day finished with participants eating dinner at Quinn Cottages, where they interacted with the residents at this transitional housing community.
"The Plunge greatly impacted my understanding of the homeless, and I will never forget my experience," said junior Darshan Patel.