Review: Can Dune deliver a blockbuster…finally?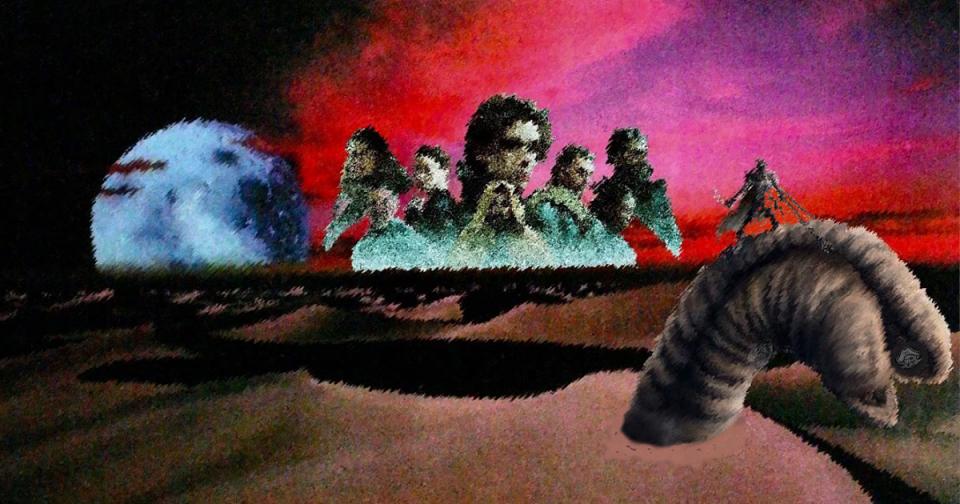 "Dune," the upcoming $165 million blockbuster by Legendary Pictures, is based on Frank Herbert's 1965 book of the same name. Released on October 22, 2021, and directed by Denis Villeneuve, this film includes actors Timothée Chalamet, Zendaya, Rebecca Ferguson, Jason Momoa, Dave Bautista, Oscar Isaac, Josh Brolin, & Stellan Skarsgård.
The first adaptation of "Dune" by Alejando Jodorowsky was in 1973, long before today's high budget blockbuster. But the 1973 attempt was just the beginning of Dune's notorious filmography, which many be considered the greatest quagmire in science fiction history: Jodorowsky's "Dune," which starred Salvador Dali, Orson Welles, and Mick Jagger.
The stars of this film caused more than a few production slow downs, but none of them came close to the problem-making of famous painter turned actor Salvador Dali.
Dali apparently thought that his skill in acting was unsurpassed and that his unsurpassed skill should merit an unsurpassed salary. For his appearance on screen, he demanded $100,000; not for the entire film, but by the hour.
Dali renegotiated his contract for $100,000 a minute and Jodorowsky had no choice but to agree, so he shortened Dali's screen time to only 3 minutes. All of his character's appearances outside of these 3 minutes were acted out by a robot, a robot that Dali demanded to take home with him after filming.
Actors' setbacks don't tell the whole story, Jodorowsky created his own drama by refusing to shorten the film to less than 10 hours. Eventually, all these conflicts and many more led to the project being scrapped.
Consequently, in 1982 the film rights were once again sold, this time to an Italian producer named Dino De Laurentiis. For more information, this entire story is told with great detail in Frank Pavich's critically acclaimed 2013 documentary "Jodorowsky's Dune."
But, this film was not the end of "Dune's" rocky beginnings on the screen. In 1984, Movie Director David Lynch released his version of "Dune." This film was so influentially bad that it had its very own spoof on "The Simpsons," a National Lampoon's film made in jest, multiple references on "Futurama," "Adventure Time," "Robot Chicken," "Spongebob Squarepants," "Rick and Morty," and "South Park."
Even with all of this recognition, "flop" is an understatement for this film's performance. Generally speaking, to be considered a success a movie has to gross three times its production budget. The 1984 "Dune" film cost an estimated $42 million and grossed a brutally low $30.9 million. This is still a notable improvement from the Jodorowsky "Dune" film which cost $2 million and grossed $0. But nonetheless, these are terrible box office earnings.
Somehow, this 1984 "Dune" was not the last adaptation before today's. In the year 2000, New Amsterdam Entertainment, Blixa Film Production, and Hallmark Entertainment embarked on the lofty mission of making "Dune" into a limited television series.
But by some stroke of luck, the project was a success. It doubled all viewership records for the SyFy channel and won two Primetime Emmys including: Outstanding Cinematography for a Miniseries or Movie and Outstanding Special Visual Effects for a Miniseries. It was also nominated for Outstanding Sound Editing.
Even though the television "Dune" was a success, the utter failure of all of the other films leads to the million dollar question, why would a studio want to release a $165 million remake of a film that has failed so miserably?
One answer may be the success of Villeneuve's 2017 film "Blade Runner: 2049," which was a follow up to another Sci-fi cult classic from the 80's. If this Blade Runner film is any indication of how the 2021 "Dune" will do in the box office, then there are high hopes because "Blade Runner: 2049" made more than $260 million – which perhaps, on its own, was enough to greenlight the newest attempt at "Dune."
If history is any indication, it is unlikely this adaptation will be a success. The big names on the bill and millions of dollars the studio throws at it will likely have little popular or critical effect. However, speaking purely as a Science fiction fan, I would like nothing better than to be proven wrong. When "Dune" comes to theaters on October 22, it will definitely be a must see for me.