Review: 'Uncharted' Underwhelms Expectations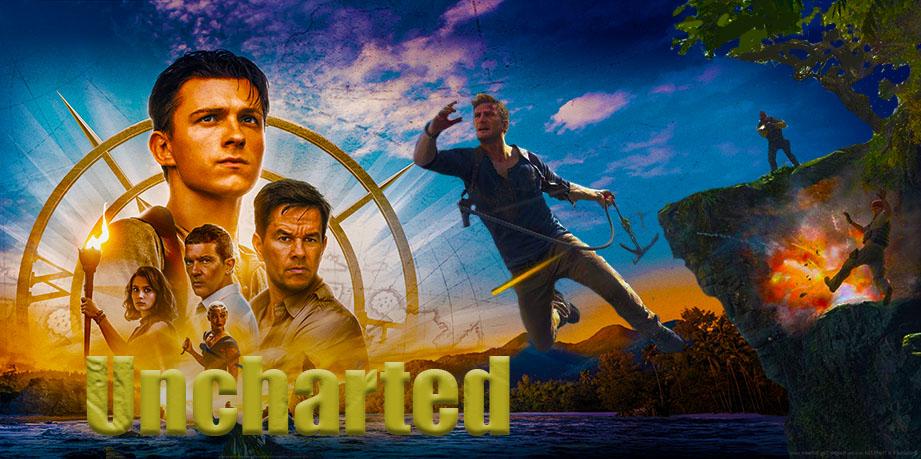 On Feb. 18, 2022, "Uncharted" was released in theaters. The film stars Tom Holland as Nathan Drake, Mark Wahlberg as Victor "Sully" Sullivan, and Sophia Taylor Ali as Chloe Frazer. It opened to overwhelmingly negative critical reviews, and underwhelming box office results, making only 51 million dollars in its opening weekend and one of very few movies to make less than a 1 thousand dollar-per-theater average.

"Uncharted" was based on a video game series with the same name, with the first game being released in 2007. The game series follows an established explorer and treasure hunter named Nathan Drake in his globetrotting adventures in search of historical mysteries and short-lived romances, a loving imitation of the "Indiana Jones" motif. As of 2022, there have been nine editions of the "Uncharted" games, grossing hundreds-of-millions of dollars in profit. The "Uncharted" film serves as a prequel for the games.
The first idea for this film was presented by a producer to Sony in 2008. In 2010, Mark Wahlberg was supposedly cast as Nathan Drake. He revealed that the studio was planning for Robert De Niro to play Wahlberg's father, and Joe Pesci to play his uncle. Sadly, this fabled film never came to pass due to troubles in the studio and eventually COVID-19. By the time a film was ready to be made, all three had already aged out of their respective roles. ]
The remnants of the original script, with Mark Wahlberg as Drake, are still evident in the film. There was a complete lack of chemistry between Sophie Ali Taylor and Tom Holland. The entire film led to an anticipation of Ali and Wahlberg's character ending up together; however, since Holland was undeniably the hero of the story, he had to get the girl.
The film begins in Drake's youth as an orphan and shows Drake's brother, the very same brother who inspired Drake to be an Indiana Jones-esque explorer, abandoning him.
The movie then jumps to 10 years later, where Drake is a shoplifter and a bartender on the side. Drake then meets his companion Sully in the bar where he works. After exchanging some witless banter that sets up a business proposition, Sully leaves Nathan a card that leads Drake to his apartment. At Sully's apartment, Sully conveniently has the flag of the explorer Sir Francis Drake, which was the very same flag Nathan's brother was searching for 10 years before. Adventure ensues.
One thing I will admit that was very cool about this film were the callbacks to previous "Uncharted" games. The most noticeable easter egg was the use of a flashforward sequence in the opening of the film, which was done in "Uncharted 2: Among Thieves." This easter egg was expertly tied with a reference to the plane scene in "Uncharted 3." This attention to the games is sure to excite any longtime fans of the game franchise.
The film did have a few redeeming qualities. The first is the climax where two massively expensive and historically important ships are dangled from helicopters and fight like two ships on the sea, a scene that would make a physicist curl up and cry. Secondly, despite the writer's worst efforts, the camera angles and set design were stellar. Finally, some of the acting performances were also good, given the script they had to work with. Judging this film critically, however, it would receive failing marks.
"Uncharted" is a case of a studio spitting out a quick money-maker in hopes of sucking cash from the already overharvested idea of a successful video game. If you're a fan of the games already, I would suggest you go. If you haven't played the games yet and you would like to, you won't after this.
If you do want to see this film, make sure you show up for "Uncharted" soon because it will likely be leaving your local theaters in the near future. Or, better yet, bring a nice blanket and earplugs so you can take a nap in your $6 an hour movie theater bed. It's cheaper than a hotel, just make sure to not look up.