Santi Gage '22, leading the cheer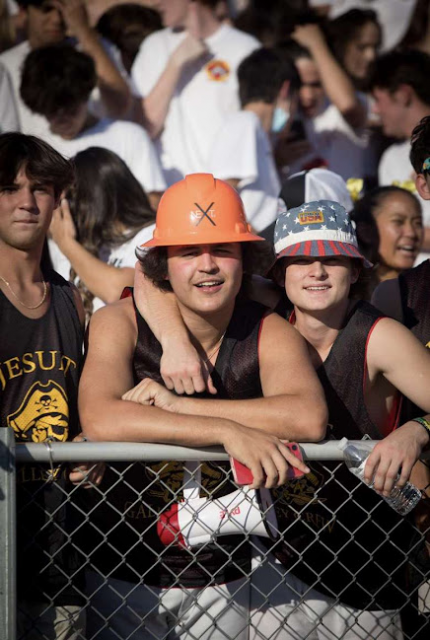 Student-athlete, Santiago "Santi" Gage '22 possesses a uniquely energetic personality, and his enthusiasm led to his election as Head Cheerleader.

Santi has also spent a significant amount of time on the fields of Jesuit High School Sacramento as a football player during his sophomore and junior year and as a rugby player since his sophomore year.
"I decided to play football and rugby because I wanted to keep myself busy with a sport that a majority of my friends played," Santi said. "Football was fun, but rugby caught my attention a lot more."
Playing sports helped Santi learn important lessons that helped him navigate his way through high school.
"Being a student athlete is the best way for me personally to get through high school," Santi said. "I love to keep busy, especially when they're activities I enjoy doing, such as rugby. It helps teach me how to prioritize and make connections with people through my classes and team."
Santi has underlying interests in all of his co-curriculars, which is one of the reasons why he decided to run for Head Cheerleader his senior year.
"Ending junior year, I wanted to help out and join the student council," Santi said. "I thought it would be a fun way of getting involved before I graduate. Head Cheerleader was the position that called to me just because I enjoy being social and loud amongst others."
Jack G. Dyer '22, his rugby teammate, explains the effect Santi induces on his environment.
"Santi never fails to liven up the crowd," Jack said. "He brings very positive energy and excitement to each event that he attends. In the classroom and on the field, Santi always makes the environment much more enjoyable and positive."
Science Teacher Mr. Nick Lai, who taught Santi in environmental science, further explains the energy Santi brings to his classroom.
"Santi is a passionate student," Mr. Lai said. "He actively engages in discussions, is unafraid of espousing his opinions and is also open to hearing other views. Other students take his lead and he can inspire his classmates. He brings a positive and high level of energy to the classroom. He desires to do the right thing and what is best for others."
The effect Santi naturally has on his surroundings is special, and Santi wants to continue using his infectious energy by pursuing a career in media.