Timothy Monroe '23: a model student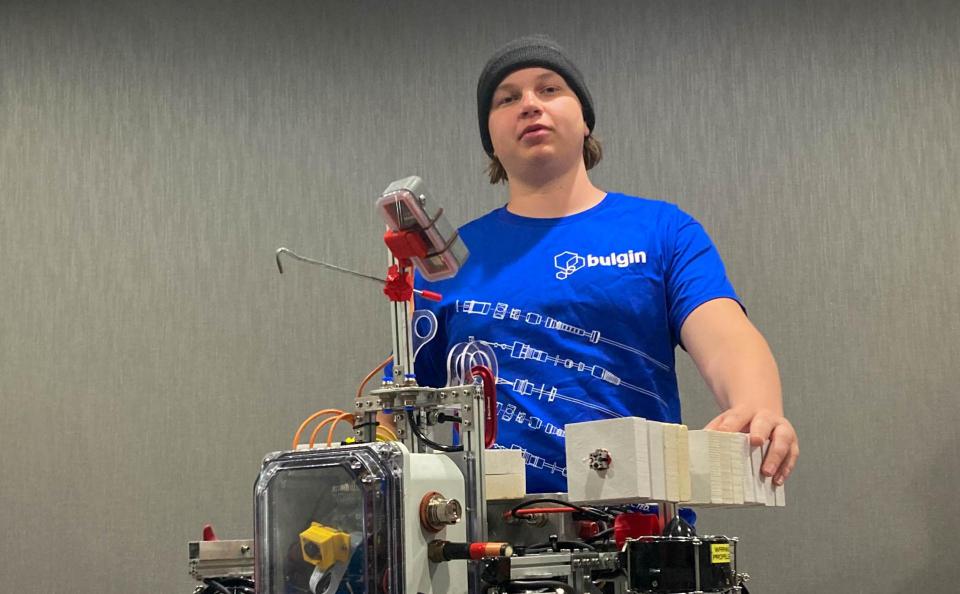 Every day, Timothy Monroe '23 puts his full effort into everything he does. Whether he's being a leader, a student, or a friend, Timothy is always working to cultivate his skills and those of others.

"The world's yours, for everybody," Timothy said. "Especially when you have the attitude of 'alright, I'm gonna go out and learn. I'm gonna put in work, and at the end of the day, get a lot of skill out of it.'"
This lesson guides Timothy's actions and helps him bring insight to his academics. AP Computer Science teacher Mr. Peter Strawn '04 appreciates how Timothy applies himself and contributes to the classroom.
"Tim asks excellent questions; he always is thinking about things from a different perspective," Mr. Strawn said. "He works very hard, he loves what he's learning about when it comes to things like engineering or computer science or robotics."
Timothy is the CEO, or leader, of the Jesuit High School Sacramento Rovotics team. During long competitions and practices, Timothy's fellow team member, Alexandre Bertran '24, has observed first-hand Timothy's knack for strategy and team development.
"He's a leader, for sure," Alexandre said. "He takes charge. He's very good at showing people what needs to be done, and also getting things done. He's very productive. He's creative with his solutions; he's patient, and he can work with people."
Leadership is very important to Timothy. He believes that being the CEO of Jesuit's Rovotics gives him a great opportunity to pass down the valuable lessons he himself has learned.
"It's a good leadership role in terms of training other people who are a bit less experienced and passing that knowledge down," Timothy said. "In terms of what we actually do, and the level that we work at, everyone contributes in their own way."
Alexandre describes how Timothy is not just a hard-worker, but also a fun loving friend.
"I know he's very smart, he's rigorous for sure, [and] he's very passionate about robotics," Alexandre said. "He's a very fun person [and] a good friend."
With all Timothy's strengths, it's no surprise Mr. Strawn believes he has a bright future ahead of him, and looks forward to what he'll do after graduation.
"I think he'll do great work no matter what he does, but ultimately my hope for him, and my hope for any student, is that they find something that they love to do and they enjoy it," Mr. Strawn said. "As long as he feels fulfilled and is continuing to live out his Jesuit education, whatever he does: that's success."
By being a hard-worker, a strong leader, and a good friend, Timothy Monroe sets a fantastic example for Jesuit students to follow. His future endeavors are promising, and he is sure to do great things after graduation.