Jack Hemmert '22, working to effect change on and off the field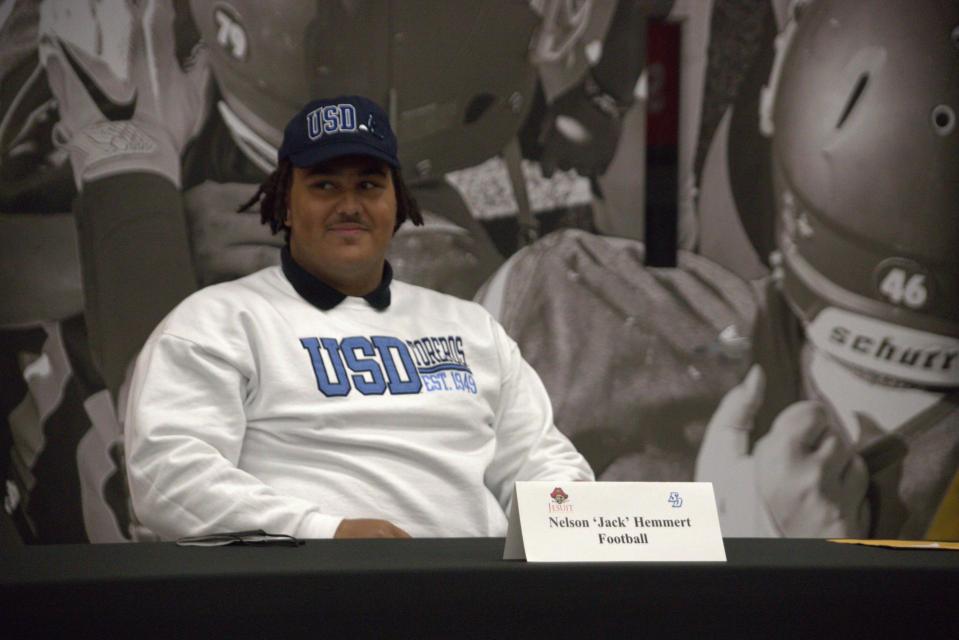 Jack Hemmert '22 works hard, and as his high school career nears its end, the fruits of Jack's labor have gained focus.
Jack's grind on the football field earned him a football offer from the University of San Diego after a season that saw him named Defensive Lineman of the Year for Delta League 2021, First Team all League, and First Team All-Metro. His success on the field, as a player and a leader, also earned him the respect of Head Varsity Football Coach Marlon Blanton.
"I have the utmost respect for Jack Hemmert and his leadership skills," Coach Blanton said. "He's done a phenomenal job being a Marauder leading the way and performing on the football field at a high level. He's a phenomenal human being, let alone football player and leader. I love the guy."
Coach Blanton has been specifically impressed by Jack's superlative physical effort that contributes to his ability to execute on the field.
"His work ethic is top notch, 10 out of 10," Coach Blanton said. "You ask him to do it and he gets it done. He works with his teammates. He works here and he gets extra work outside of here."
Jack's best friend for over 10 years and the football team's manager Sean Nam '22 has also seen Jack's amazing work ethic. Sean is impressed by Jack's ability to play football and be an outstanding student at the same time.
"Jack is a great student especially considering how little time he has […] particularly during football season where practices go until 6 p.m.," Sean said. "He is a quintessential student-athlete, playing at a Division 1 college level while keeping good grades."
Social Science Teacher Mr. Michael Solander has taught Jack all four years and has seen time and again what a positive force he can be in the classroom.
"Jack's a great personality," Mr. Solander said. "Positive, upbeat, and always seems like he's in a good mood. He challenges other students in a good way and he does it without being rude or mean in a way that sparks other interests and ideas in other students. Jack is an ideal student."
Jack's goals extend beyond athletics, and include interests that range from using his voice to sing in the spring musical to using it to drive change in social justice movements.
"Jack also has been active being a man for others outside of school, having been named a YLC (Young Leadership Collaborative) Scholar," Sean said. "[Jack] has dreams to become a great man for others in the legal environment by becoming a lawyer."
Jack hopes that college can be a catalyst that assists him with achieving a position that lets him effect change even more effectively.
"I plan on going to school studying pre-law or political science and eventually get to law school and get my law degree," Jack said."I want to work in the political field. I want to work in the grassroots of social justice change and maybe run from public office one day."
Jack chose the University of San Diego because he believes that it can give him skills of being a better football player and better person.
"When I visited the campus I felt as if I were home," Jack said. "I could see myself thriving as an athlete, as well as a student. San Diego has a wonderful coaching staff who have great knowledge of the game, and who will develop me on and off the field."
Jack will enter college as both an activist and athlete. He believes that his football career can help to bring him the attention and platform needed to assist him in making a change.
"I love the game of football, and I'm thankful for the opportunities it's brought me, but as a student-athlete, I know I have a platform that I can use for social justice and change and I plan on using my platform at the next level," Jack said.
Having earned the respect of coaches, teachers, and other peers, Jack will leave Jesuit as an accomplished student-athlete and actor. He will continue to represent being a "Man for Others" as he uses his voice to invoke change.