James Irwin '22, leads peers through his actions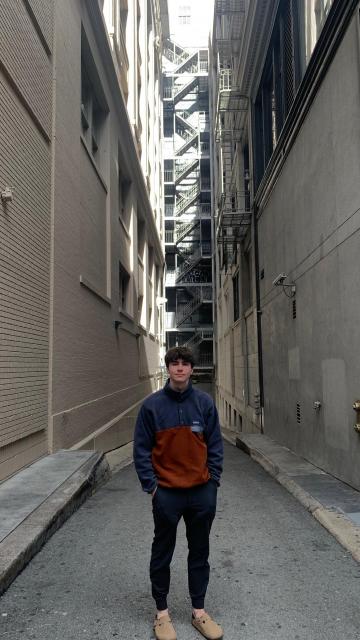 James Irwin '22, is an impressive community focused student-leader at Jesuit High School Sacramento whose all-inclusive drive helps others seek to be the best version of themselves.

James's outreach in the community includes being involved in the Big Brother program, acting as the current president of the Entrepreneur's Club, and contributing to the Jesuit community through many forms of service.
Ian King '22, a friend of James, speaks highly of James's compassion and impact.
"He just helps those that he can," Ian said. "James has a huge positive impact on his friends and the younger classmen."
In addition to his impact on students around campus, James has some impressive scholastic achievements such as being a National Merit Finalist.
"Right now I'm a National Merit Finalist," James said. "[Being a National Merit Finalist] just means that when everyone took the PSAT in junior year, I was able to score well enough to qualify for that title. "[With the title] scholarship offers are awarded to you from different schools and different organizations."
James has taken a broad span of classes which have helped him achieve a higher level of knowledge, some of which being his favorites as well.
"AP Lang. with Mr. Grant," James said. "That is my favorite class at Jesuit. My top three favorite classes at Jesuit have been AP Language with Mr. Grant, freshman year Theology with Mr. Shaha[Shahamiri], and Computer Science with Mr. Strawn."
James's drive in the classroom and intellectual curiosity serve him well as proven with his excellent test scores and incredible GPA. His AP Language teacher, Mr. Grant, recalls his time with James.
"In class, James was intellectually curious, funny, humble, and cheerful," Mr. Grant said. "Even when he was one of four students physically in the room, which happened quite a lot last year [due to COVID accommodations], his energy and joy in being here crackled throughout the class."
According to Mr. Grant, James stands out because he is a selfless learner that cares more about the community's success than that of his own.
"James isn't a solitary grinder in pursuit of his own unique goals," Mr. Grant said. "He's community oriented, feeling that a group in which everyone wins is better than a group in which he alone triumphs. His exuberance in learning and willingness to accept even public criticism encouraged a culture of mutual cooperation and helped his other, less brave or outgoing peers feel comfortable taking academic risks. He's a leader in the best sense of the word, and I am proud to have shared a class with him."
James's influence goes far beyond just the classroom though. As the leader of the Entrepreneur's Club, he created and marketed a senior class sweatshirt.
"I think this year something that we [the Entrepreneurs' Club] have done that I am proud of and the team is proud of is we delivered a really solid product on the senior sweatshirt," James said. "I think a lot of seniors are really happy with the result of the product. I am really glad that we created something that is helping other kids out."
The senior sweatshirt is also a fundraiser in which he not only provided an excellent product to students, but he also raised money for his Entrepreneur's Club. He was able to sell over 100 sweatshirts, proving his success in the product.
James will be remembered at Jesuit as someone who was an inspiration and leader to others that proved so through his actions, which accomplished a lot over the course of his four years at Jesuit.