Roanin Krieger '22, star rugby player dedicated to service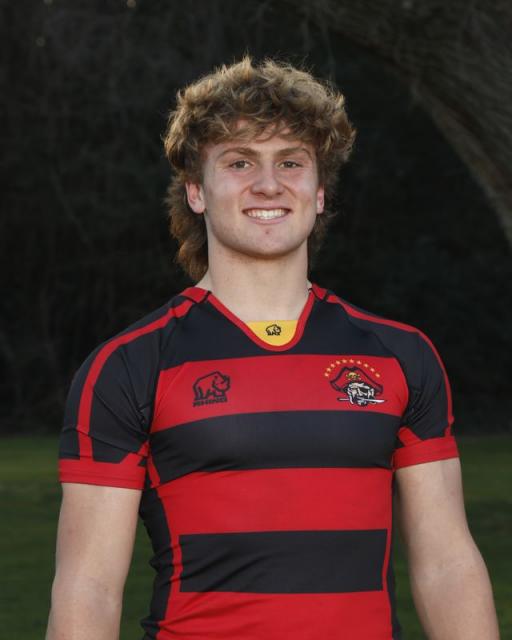 Roanin Krieger '22 graduates from Jesuit High School having accomplished much during his four years, including being the team captain of the rugby team and a noteable a "Man for Others" in the community.

"Roanin fits the 'Man for Others' motto because he carries himself in a selfless way, and he's proven himself to be a leader," said former teammate David Hause '21. "He thrives in tough situations, and doesn't dwell on mistakes, but instead focuses on the next job. These traits and many others Roanin has are qualities of being a leader and being a man for others."
Roanin's character is not the only special thing about him; he has a strong drive to serve in the military and has narrowed his choices based on this desire.
"I have been accepted into both West Point and Annapolis but have not made a final decision yet," Roanin said. "The reason I want to attend a military academy is because I want to serve. I love the discipline and brotherhood that is present within the military academies and want to be a part of that brotherhood and higher purpose."
Roanin's discipline and work ethic are impressive. Many of those around him notice it, including varsity Rugby Coach Andrew Acosta.
"I have been part of the Jesuit varsity rugby program for 15 years and have not seen too many players with his [Roanin's] dedication, commitment and skill set," Coach Acosta said. "As the team captain, he leads from the front and pushes himself and those around him to get better every day. Rugby is a dynamic sport that doesn't allow for a coach to call timeout, so having a leader like Roanin who makes the right decisions on the field is critical. It has truly been an honor to coach a player of his caliber."
Roanin is a focused leader in game and his pregame routines allow him to prepare himself to the highest level possible.
"My only real [pregame] routine is eating a banana about 30 minutes before kickoff and sometimes blasting Lil Skies on the way to the game," Roanin said. "Another routine I have is taking ice baths to focus my mind."
Off the rugby pitch, Roanin loves to help others. His desire to be a 'Man for Others' is apparent in his actions. Roanin mentions some of his service that he has done while at Jesuit like volunteering at The Upper Room which is a dining hall in Placerville that provides meals to the needy 365 days a year.
"One thing I have done to help others is serving at The Upper Room in Placerville," Roanin said. "I have done this every year that I have been at Jesuit, and it has afforded me great opportunities to help those who are less fortunate in my community. I have also helped a lot of my friends at Jesuit both on the field and in the classroom to the best they can be."
Roanin is a great teammate with a unique sense of dedication to the game of rugby. David speaks on his experience of having Roanin as his teammate.
"Having Roanin as a teammate was awesome because he was very invested in the game of rugby and always showed up to put in work and get better," David said. "His work ethic along with how sociable he is in a rugby aspect is what made Roanin a great teammate and lifelong friend."
The community that surrounds Roanin has flourished and will continue to do so because of his exemplary leadership and love for service. There is no question that Roanin's dedication and work ethic will continue to help him prosper.