Ryder Spradlin '22 strives to bring back campus life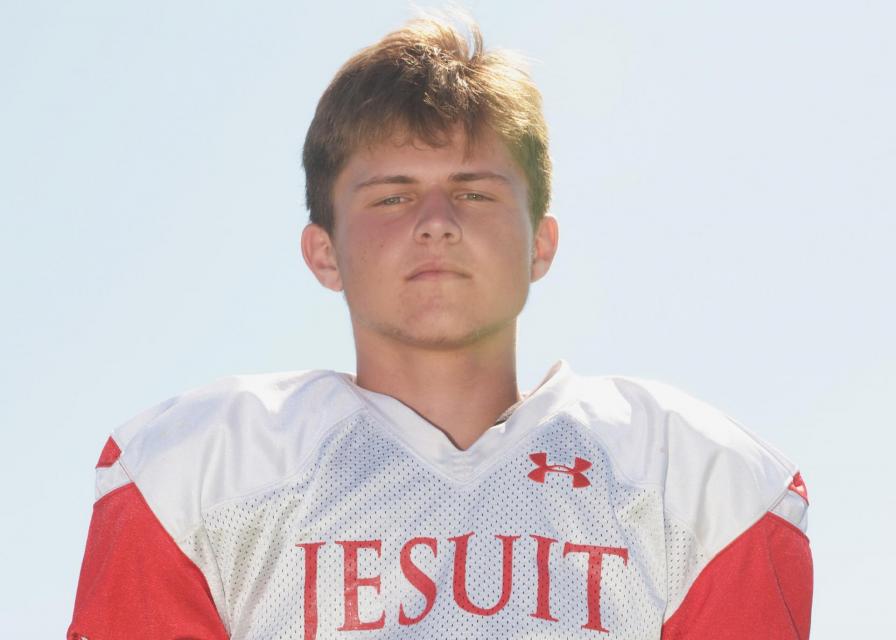 From mascotting for Jesuit's Galley Crew to being on the prosecution team in Mock Trial, Ryder Spradlin '22 has accumulated valuable life experience from his engagement in the many opportunities that Jesuit High School Sacramento has afforded him.

After Jesuit endured the 2020-21 school year without fans in the stands, Ryder enlisted himself to help make the crowds energetic again, becoming the voluntary Jesuit High School mascot.
Sean Nam'22, the Jesuit Football Team's Manager, explains how Ryder helped rejuvenate Jesuit's football games.
"Ryder showing how much he cares about Jesuit sports and energy is what makes him a great mascot," Sean said. "Ryder gives excitement and fan interest to football games. He had creative ways of doing it, using the band and flagpole he brought to games to create as much noise as possible."
Ryder's school spirit and infectious enthusiasm not only had an impact on the crowd's energy in the stands, but also had an impact on the team's energy on the field.
"His presence at games has been a morale booster," Sean said. "We were always encouraged by him screaming for us and how he ran up and down the field whenever we scored a touchdown."
In addition to being the voluntary school mascot, Ryder has also been an active member in Mock Trial, Chamber Choir, and the Senior Retreat Team. Ryder believes that by participating in these co-curriculars, he has built a strong and diverse network of friends at Jesuit.
"I believe that each of these activities have allowed me to build strong relationships with people of variegated backgrounds," Ryder said. "I have a vast network of friends and know that, no matter my situation, I'll have someone that I can turn to."
By participating in Mock Trial along with Ryder, teammate Alonso Lee '22 has been able to see a fuller picture of Ryder's whole personality.
"Ryder has a unique eagerness to uplift the spirits around him and make anything [that is] seemingly lame, cool," Alonso said. "Ryder is a passionate man, with an innate desire to support and create an impact around those in his community. "
Mock Trial Coach Mrs. Jennifer Scott has also had the opportunity of seeing Ryder's character and, like Alonso, had also noticed his good will and well natured tendencies.
"Ryder cares deeply about the people around him whether it be his teammates, teachers, or the people experiencing homelessness in his community." Mrs. Scott said. "Ryder strives to be involved with activities and movements that he feels will improve the lives of others."
Despite being extremely engaged in the Jesuit community, Ryder admits that his most enjoyable activity isn't actually at Jesuit.
"Without a doubt, my favorite activity has been working under Caity Maple, a candidate for City Council in Sacramento," Ryder said. "Through this, I've delved into the complex and constantly moving world of local politics and to be honest, it is riveting."
Ryder's experience with Caity Maple has already deeply contributed to a strong sense of belonging and direction for him, which will, he believes, unquestionably lead him further down a path of affecting whole communities in positive ways.
"I feel that I am a part of a team and directly impacting my community," Ryder said. "Wherever I go, I fully plan to get involved and active in local politics, contributing to meaningful dialogue that aims to uplift those in need."
Ryder has committed to the University of Alabama, where he plans to study Political Science and Business.