Wrestling team ready for strong season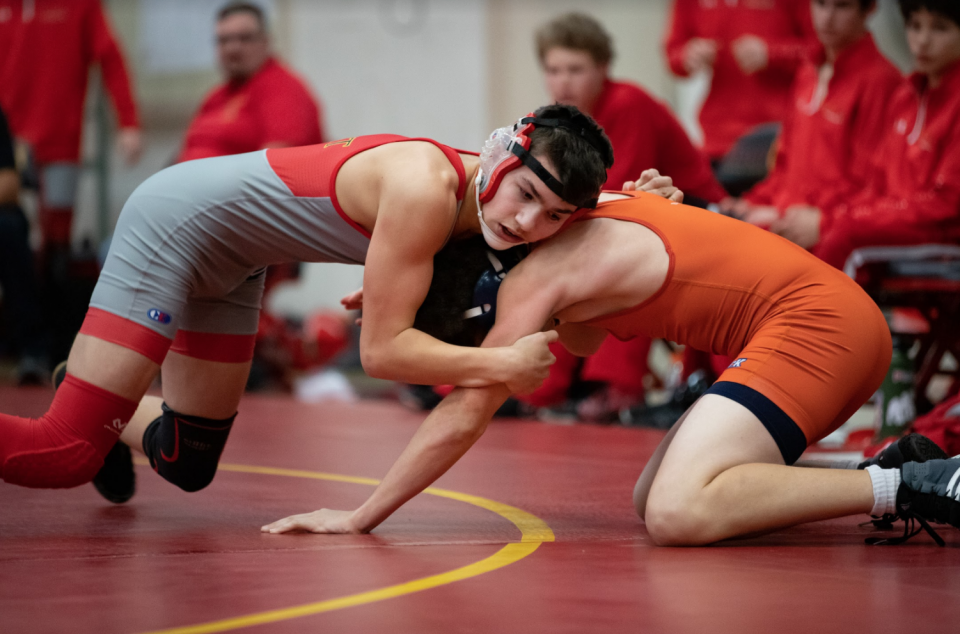 With winter sports officially beginning in December, Jesuit High School's wrestling team is ready to hit the mat.
This year's wrestling team is young, with only one returning senior, but that won't stop the Marauders from competing for the top spot in league dual matches.
"Being a young team will present some challenges at our league dual matches," said Varsity Head Coach Mike Sexton. "However, I really like how our team is progressing so far this season. I tell the team all the time […] just put in the hard work it takes to continue getting better, and every time you step on the mat, give 110% effort. If we do that, then success will come."
The wrestling team always strives to work hard as they continuously perfect their skills and physical fitness to give them the best chance at making it to the California Interscholastic Federation State Meet.
"Our team goal is to do good in duels against the other teams in our league," said Caleb Dietz '20. "I plan to work on my technique, conditioning, and muscle mass. If I can improve in these three things, then I will do a lot better."
After months of perfecting skills and building muscle for competition, Clark Parry '21 explains that there is more to wrestling than just physical dominance.
"The most important aspect of wrestling is being able to control your mental state," Clark said. "I am always working on that, and I hope I can help the other wrestlers get in the right mentality that you need to be a wrestler."
The team's first scrimmage is this Thursday, Dec. 5, at 5:00 p.m., at Monterey Trail High School. The match will be the team's first test of strength and effort, and will set the bar for the rest of the season.
Harley Sherman '22, Copy Editor