Homesickness brings Mr. Burrows back to Jesuit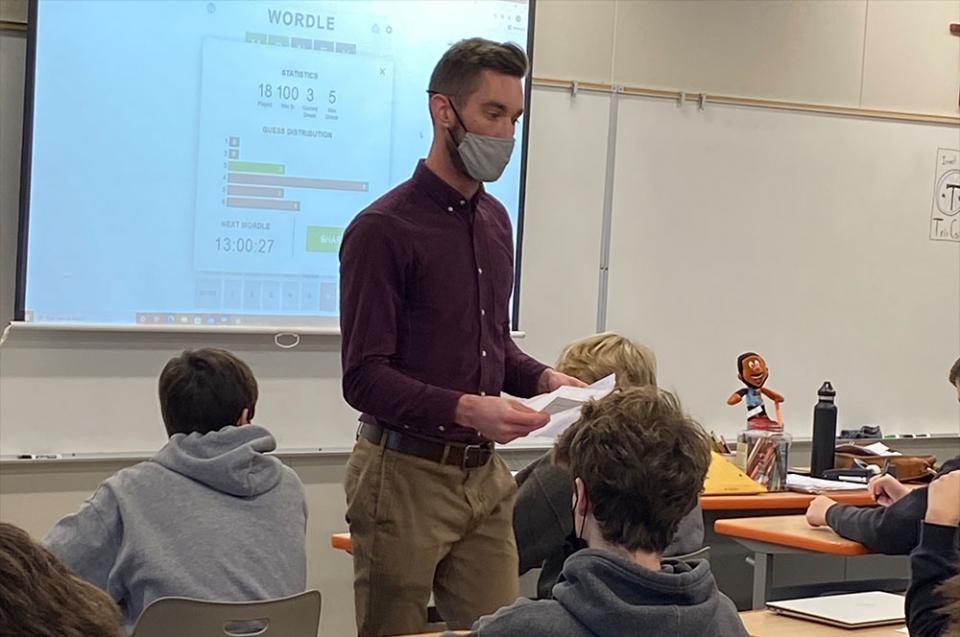 After nearly 10 years, former student Mr. Andrew Burrows '11 has returned to the Jesuit High School Sacramento campus to pursue his teaching career in Lalemant Hall. He arrived at Jesuit last year and currently teaches English 2 and English 3 and is the moderator of the Sports Talk club, as well. He also taught Spanish last year.

Being a Jesuit High School alumnus, Mr. Burrows has had many experiences and memories that have impacted his life. He shares how being a graduate of Jesuit has inspired and pushed him to become a teacher himself.
"I had the idea of what it was like being a student here," Mr. Burrows said. "I had a lot of great teachers who inspired me a lot, especially with English. I loved talking about what it means to be a human being, the ways authors do that, and how interesting it was so that was what sparked my interest."
Mr. Burrows originally started his teaching journey in Honduras to fill in for a teaching position that was needed. There, he taught elementary school students English while also gaining experience with the Spanish language.
"I started as a third grade teacher, and then I taught middle school, and now high school again," Mr. Burrows said. "I went from Jesuit to Santa Clara University, where I studied English and political science, and then I worked in the Bay Area and left my job there to teach school in Honduras. I was teaching students English and all subjects, but they were, of course, English learners so I got to practice Spanish a lot."
Later on, Mr. Burrows received formal instruction to become a teacher at the University of Notre Dame and got his Master of Education degree. Eventually, his time away from home brought him back to California where he would end up teaching.
"I became homesick but then I was finally accepted into the grad program at Notre Dame where I got formal training to be a teacher," Mr. Burrows said. "And then I got homesick and came back to California where I'm happy to be teaching here and being here again."
Mr. Burrows had no trouble at all assimilating back into Jesuit. He highlights his previous experiences and connections at Jesuit and how they made his transition easier.
"I feel welcomed here, of course," Mr. Burrows said. "I'm very lucky to have had a lot of familiar elements like having some familiar faces who are still teaching here and even knowing where things are on campus. That's helped me integrate more easily here than at any other high school so I'm very lucky for that."
Being back on the Jesuit campus has filled Mr. Burrows's life with many memories and experiences from the Jesuit community. He has come to appreciate even the smallest things he comes across everyday.
"There are a lot of things that have made a really nice impression on my time here," Mr. Burrows said. "Just everyday with students, it can be very small or a routine thing, but greeting them at the door or throughout the hallways. I also really appreciated leading retreat again, going from the role of first attending retreat, then being a student leader, and now being a faculty leader."
Mr. Burrows strives to create a safe and welcoming teaching environment for his students while also providing them with structure to help guide his instruction.
"Hopefully, my classes are structured, but also casual at the same time and allowing for sharings and conversations while still also following some defined path or goal," Mr. Burrows said. "I'm hoping that everyone feels very comfortable but also engaged with our tasks that we're working on, as well as being enjoyed and okay with being in class and ready to put our mindsets forward."
Ethan Vu '24, in Mr. Burrows's English 2 class, enjoys being in Mr. Burrows class thanks to his engagement with his students that makes learning fun.
"My experiences with Mr. Burrows have been very amusing," Ethan said. "Whenever we have extra time in class, we play games like hangman or this word game on the Washington Post site. The way he teaches in class is very engaging and I'm always curious about what we're doing next in class. He is a natural at teaching with the way he makes topics easy to understand."
Julian Garcia '23, who is in Mr. Burrows's English 3 class, also mentions how Mr. Burrows makes his learning environment a fun and engaging place for his students.
"We don't really use our devices a lot but he never fails to have some way for us to work out of the classroom," Julian said. "He is very good at going over rubric with us and gives us examples of good, decent, not bad, and bad whatever the topic is on and let's us try to figure out which is which. This gets the kids engaged and makes us more prepared for the assignment."
Mr. Burrows sees a long yet enjoyable road ahead of him in his teaching career. He wishes to become much closer with the content he teaches and even inspire others to gain the same appreciation for English that he has.
"I'd like to continue developing to make sure that students can feel welcomed and also get an even deeper knowledge and understanding of the material that we cover in class," Mr. Burrows said. "And I also want to share that same spark and knowledge and interest that I gathered here when I attended Jesuit as a student. It's a lofty goal, but I would love to approximate that experience."
Welcomed by the open arms of his alma mater, Mr. Burrows returns after a long journey of learning and teaching. Not only has he come to just instruct English to his students, but he also comes to inspire and spark a fire in them with the same passion he gained from his own experience as a student at Jesuit.