Jesuit continues community outreach through Lenten Service Drive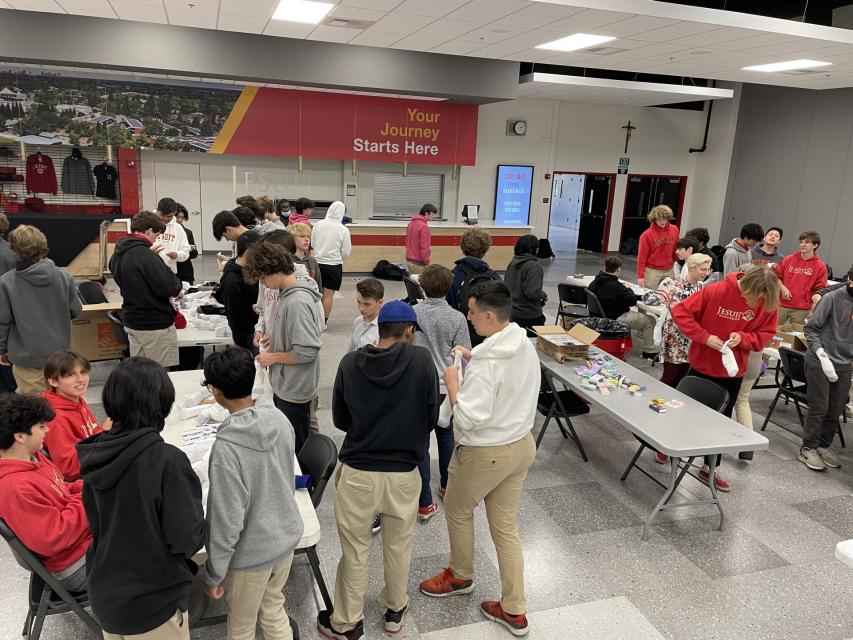 For the season of Lent, Jesuit High School Sacramento hosted a week-by-week Lenten Service Drive. Starting March 11 and ending on April 8, 2022, the Office of Service and Justice collected specific items in order to fulfill a need in the local Sacramento community.

According to the Assistant Principal for Mission and Vision Ms. Annie Crew-Renzo, the drive furthered Jesuit's goal of creating loving, generous students who care for the poor.
"This drive is part of the commitment that Jesuit High School has to our Mission of forming young men of conscience, competence, and compassion for the greater glory of God," Mrs. Crew-Renzo said. "These drives allow us to tap into our natural generosity and desire to help those in need. And they advance one of the aims of social justice, which is to develop a heart for charity and charitable giving to the poor."
Theology Teacher Ms. Gabriella Carroll, who also works in the Office of Service and Justice, believes that the Lenten Service Drive provided students an opportunity to engage in service on-campus.
"We're doing the Lenten Service Drive as a practical way for us to offer some on-campus [...] service opportunities for students, especially during the pandemic which has limited our opportunities," Ms. Carroll said.
Ms. Sara Brabec, the Director of Service and Justice, added that the drive fulfilled one of the goals of the Lenten season itself.
"We are doing this drive as a way to engage the Lenten practice of almsgiving as a school," Ms. Brabec said.
The drive also allowed Jesuit students to create strong bonds with each other and grow in their spiritual journeys, something praised by Mrs. Crew-Renzo.
"It's a great experience of the Brotherhood if you join in the time to put these things together and an opportunity for you to grow in knowledge of yourself and of God," Mrs. Crew-Renzo said.
Jesuit has always been committed to serving the community, and the Lenten Service Drive was just another example of this commitment. While the drive has now ended, the virtues of almsgiving and generosity will never leave this campus, and the student body should always expect more service opportunities in the future.