Mask mandate lifted, Jesuit begins return to normalcy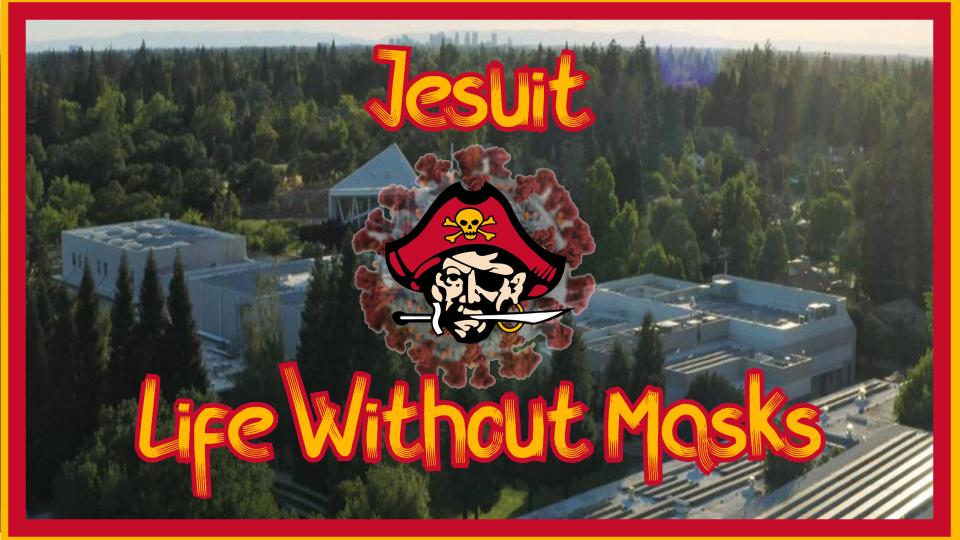 For the first time in over two years, students can choose to attend classes without wearing face masks. This is due to a change in the Jesuit High School Sacramento masking policy on March 7, 2022, which states that "masks are now recommended but not required."

The driving force behind this change was not Jesuit, but rather Sacramento County.
"The mask requirement was lifted by the Sacramento County public health officer," Dr. Wood said. "It wasn't our decision; it was their decision. We just followed it."
Ryan O'Neill '23 has chosen not to wear a mask now that the requirement was lifted.
"I don't wear a mask because I do feel safe, without wearing it," Ryan said. "I am fully vaccinated and I have the booster. "Also, everyone else doesn't wear [a mask] and I don't want to be that one guy who's wearing one. Because it does feel weird if I am the only one in the classroom wearing a mask."
While some people were a little apprehensive about the effects of removing the mask mandate, others wished that the mandate would have been done away with sooner. According to Dr. Wood, there were complaints about masking from the Jesuit community even when the county mandated masking. However, Dr. Wood said that these complaints were uncommon.
"There were some families who were hoping that we could lift the mask mandate earlier than the county allowed us to do so," Dr. Wood said. "They didn't necessarily like the masks, but they knew it wasn't our choice."
So far, the lifting of the mask mandate seems to have had little effect on COVID-19 numbers at Jesuit. Generally, the number of students absent due to illness is remaining the same as it was when mask requirements were in place.
"We have not seen any significant change in numbers of illnesses or absences, COVID or otherwise at this time," Dr. Wood said. "[Although, it] may also be due to the fact that rates in our county are quite low."
The change in masks may have made little dent in the school's COVID-19 numbers, but it had a huge impact on daily life.
Theology Teacher Father Perry Petrich, S.J has noticed a huge culture shift in the classroom.
"Honestly, reminding students to wear masks created an atmosphere of contention and antagonism [in the classroom]," Fr. Petrich said. "I am so happy it dissipated."
Some of his students still prefer to wear masks, a number Fr. Petrich estimated to be around 10 percent. Overall, however, Fr. Petrich and Dr. Wood are happy that Jesuit is trending toward a sense of normalcy.
"To an extent that the lifting of the mask mandate is showing that we are towards the end of this difficult two year period." Dr. Wood said. "It brings me great joy and it is my hope that we continue to be a safe campus when it comes to COVID as we have been for the past two years. But yes, I am eager to be living in a world where COVID is behind us. I think that the mask mandate being lifted is one big step in that direction, and I think that is a good thing."
Despite the removal of the mask mandate, there remains the possibility for it to return. If the COVID-19 numbers begin growing once again and the virus is seen as a credible threat to student health, the administration may have to reinstate the mask mandate on campus.
"In dialogue with experts in public health, if we saw that [COVID] rates were increasing on our campus or that our campus was becoming a vector of spread and we felt that replacing or reinstating the mask mandate would be an effective tool to stop such a spread, we would consider bringing the mask mandate back," Dr. Wood said.
For many, the lifted mask mandate has been immensely impactful in the classroom and in the Jesuit community at large. This change hopefully signals a return to normalcy after these last two long years of the pandemic.