Ms. Jessica Fuentes works to bring positivity to campus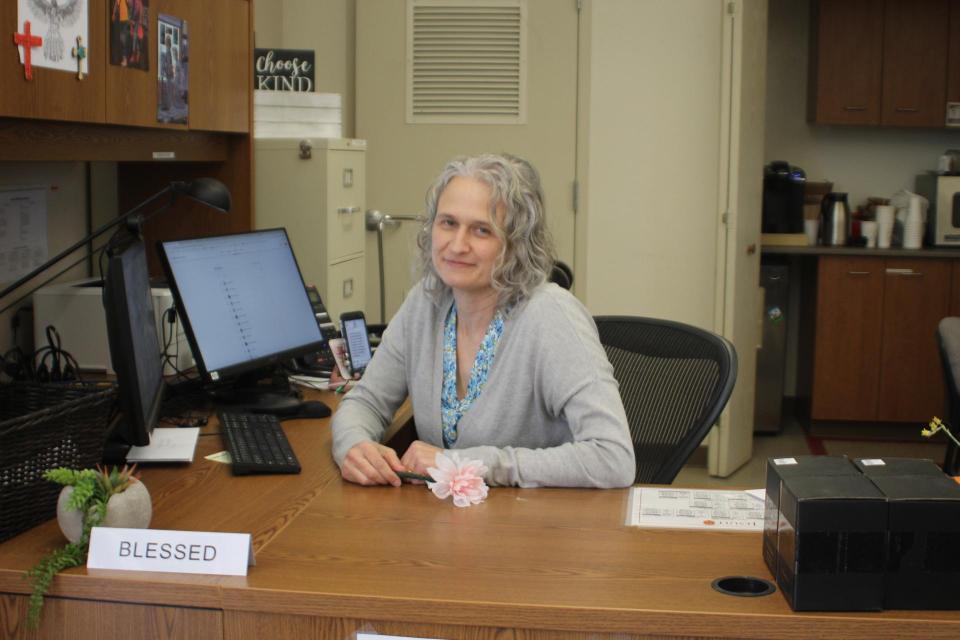 Ms. Jessica Fuentes, the administrative assistant for the offices of Service and Justice and Campus Ministry, is a new face supporting the Jesuit High School Sacramento community through coordinating retreats, administrative work, and helping students and faculty navigate their questions about Service and Campus Ministry.

Prior to coming to Jesuit, Ms. Fuentes worked as the Office Manager at St. John the Evangelist Catholic School, her first school related job. This job sparked her interest in working in a Catholic school setting like Jesuit's.
"Before I worked at Jesuit I worked at St. John the Evangelist and that was the first time I worked for a school and for a Catholic entity," Ms. Fuentes said. "I really enjoyed working somewhere where it wasn't just about profits, where it was also about making a difference and being helpful to the community and to the students. It was very fulfilling."
Junior-Level Coordinator for the Office of Service & Justice Ms. Katie Maynard emphasizes how lucky the Jesuit community is to have Ms. Fuentes, noting how she is able to work well with everyone and how she makes the workflow more effective.
"Ms. Fuentes is such a gift to the Jesuit community," Ms. Maynard said. "This is a new staff position for the Office of Service & Justice, so we are incredibly fortunate not only to have administrative help, but to have her high level skills and partnership in mission. Not only has she made our processes more efficient, but she is invested in communicating our mission of a faith that does justice."
Director of Campus Ministry Mr. Paul LeBoeuf highlights Ms. Fuentes' creativity and is excited to see how she uses that creativity in the future.
"I am looking forward to her creative touches on things, how she can make things look better or run easier or smoother, and have the freedom to be creative," Mr. LeBoeuf said.
Although Ms. Fuentes has been here less than a year, she has already been able to leave a positive impact on students. Angelo Trajeco '22, a teacher assistant for Campus Ministry who works with Ms. Fuentes, finds his conversations with her to be a highlight of his day and is always left with a positive experience.
"Talking with Ms. Fuentes is always a fun part of my day," Angelo said. "Often days I'd be stressed, but when I T.A. in Campus Ministry, the talks I have with Ms. Fuentes relieves my stress and overall just improves my day."
Ms. Fuentes hopes to continue to work at Jesuit because of her positive experience here as well as her desire to contribute to her departments at the school.
"I hope that I get to continue working at Jesuit because I am really enjoying it here and that I continue to be helpful to the two departments and they continue to give me bigger and bigger projects," Ms. Fuentes said.
The Jesuit community continues to give Ms. Fuentes a warm welcome and is grateful for the work she has done thus far and for her work in upcoming projects in the future. It will be exciting to see what kind of creative choices and touches she makes in the hard work she puts in at both the Office of Service and Justice and Office of Campus Ministry.