Academic Support Center Brochure
More about the goals, services and components of ASC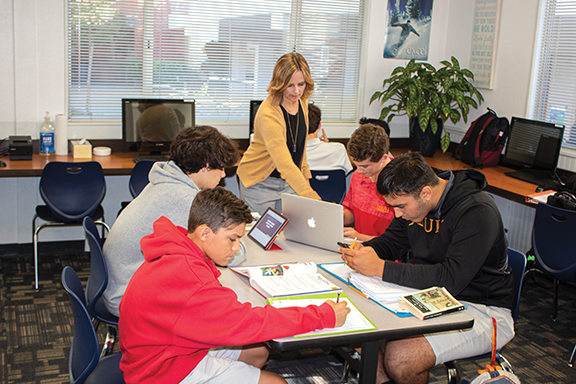 Goals
Students will:
Begin to understand their individual and unique strengths and challenges
Learn to utilize strategies to achieve academic success
Utilize school and community based resources for additional academic support
Understand the importance of self-advocacy and communication
Services
Students with documented learning differences and/or AD/HD and autism have the opportunity to work closely with the Academic Support Center staff.
Academic Support Center provides:
Creation of an individual Academic Support Plan based upon the student's educational documentation (preferably a psycho-educational assessment)
Goal setting and academic planning
Connection of students with faculty and peer tutors for academic support
Coordination of academic accommodations such as extended time for testing, testing in a less distracting environment, and preferential seating (additional accommodations can be requested after consultation with the director of Academic Support)
Information to students and parents regarding extended time testing for college admissions (SAT/ACT)
Instruction for students in study skills and executive skill development
Referrals to outside agencies
Consultations with parents as needed
Program Eligibility is Based Upon Diagnosed:
Learning disabilities
Processing Speed Deficits
Attention Deficit/Hyperactivity Disorder (AD/HD)
Autism
Physical, medical needs
Vision/Hearing impairment
Additional support services on a case by case basis
If you are interested in obtaining services for your student, please contact the director of the Academic Support Center.
Components
LD and AD/HD Support
In order to receive program services, parents must provide educational documentation to the Academic Support director and registrar/ Admissions. Documentation may include
a full psycho-educational evaluation, IEP,
504 Plan, and/or diagnosing information from a physician.
Students with educational documentation can access academic support during their FLEX period or work on their own in a positive learning environment. Direct assistance may include help with organization, planning, grade monitoring, study skills, and/or subject area tutoring.
Students on academic probation may be assigned a directed study period in the Academic Support Center during their FLEX period for direct progress monitoring.
Peer Tutoring/Mentoring
California Scholarship Federation students are available during the day in the library for additional tutoring.
Introduction Meeting
The Academic Support Center director meets with all entering families to create an Academic Support Plan and orient families to program services in August.
Download