Edgar Benitez '20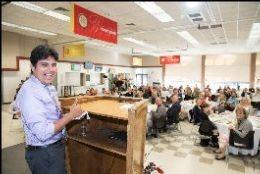 Tuition assistance recipient Edgar Benitez '20 shares his inspirational story of being born in Guatemala and immigrating with his mother and brother to the United States. Your donations have allowed students like Edgar to attend Jesuit and become a Man for Others.
At our 2019 Scholarship Luncheon, our President, Rev. John P. McGarry, SJ, spoke passionately on his vision of making Jesuit High School viable, sustainable and accessible for the future. Edgar Benitez '20 is the epitome of this vision and he shared his story during the event. Edgar's story is an inspirational message on how our scholarship program changes lives.
We hope you will take the time to consider a donation to Jesuit High School Sacramento to support our mission and students like Edgar. Now, more than ever, your continued support is needed.