Jesuit Sacramento senior Andrej Stojakovic selected to play in 2023 McDonald's All American Game in Houston, TX
Stojakovic will be recognized locally with jersey presentation during special school rally February 16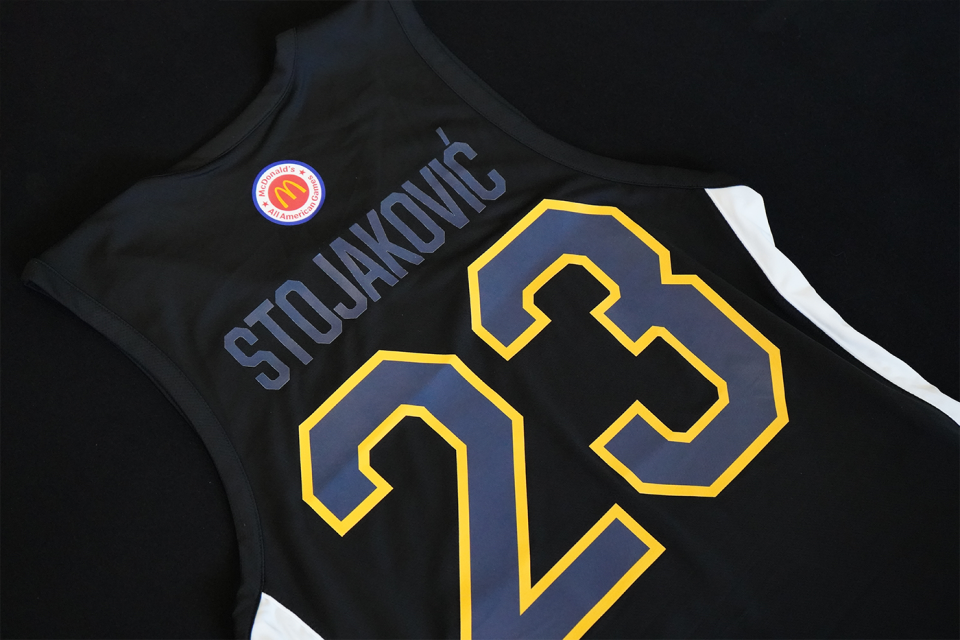 SACRAMENTO, Calif., February 13, 2023 – Andrej Stojakovic, a Jesuit High School of Sacramento senior, was selected from more than 720 high school basketball players spanning across the country for the chance to suit up in the 2023 McDonald's All American Games. Since 1977, the Games have been a proving ground for the elite stars, and it's time for a new class of greats to make their mark on history this March at Toyota Center in Houston.
Stojakovic has been a stand-out player for the Marauders and committed to Stanford University in the fall. He will be recognized with a special jersey presentation during a school-wide rally on Thursday, February 16, at 2 p.m. PT in the Jesuit High School Barry Gymnasium, 4660 Fair Oaks Boulevard, Sacramento.
Andrej is the son of former Sacramento Kings forward Peja Stojakovic and Aleka Kamila. Stojakovic is one of four sons of former NBA players to be named to the 2023 McDonald's All American Games team.
There are many ways to witness the game's future stars in action – whether you'll be traveling to Houston or watching at home.
Fans can tune in to the POWERADE® Jam Fest on Monday, March 27 at 7:30 p.m. ET on ESPN2. The 2023 McDonald's All American Girls Game will air on Tuesday, March 28 at 6:30 p.m. ET on ESPN2 and the Boys Game will immediately follow on ESPN at 9 p.m. ET.
Tickets to the POWERADE® Jam Fest on Monday, March 27 are now available through a donation to Ronald McDonald House Charities (RMHC) in the amount of $1 or more at this LINK.
Tickets to the McDonald's All American Games at Toyota Center on Tuesday, March 28 are now available at this LINK.
Andrej Stojakovic follows in the footsteps of all-time legends named to the McDonald's All American Games final rosters – names like Skylar Diggins-Smith, Derrick Rose, Sabrina Ionescu, and Zion Williams, on and many more of your favorite players.
Follow @McDAAG on Instagram and TikTok for the latest news and announcements.
About Jesuit High School of Sacramento
Jesuit High School Sacramento is a regional Catholic high school that provides young men with a life-building experience and delivers an academically rigorous college-preparatory education to prepare graduates for lives of leadership and service.
Founded in 1963, Jesuit Sacramento currently has an enrollment of nearly 1060. The student body represents diversity in geography, ethnicity, religious affiliation, and socioeconomic background. JHS draws from more than 90 zip codes throughout the Greater Sacramento Area, with 99.5 percent of graduates going on to college or university.
Home of "The Marauders," Jesuit Sacramento has one of the region's most successful men's athletic programs, more than 22 visual and performing arts offerings, a robust Honors and Advanced Placement curriculum including the innovative international AP Capstone Diploma Program, an award-winning robotics program, and a club for every passion.
A Jesuit education fosters a "Men for Others" culture. Students volunteer locally and globally during summer immersion opportunities, giving more than 27,000 hours annually, primarily to at-risk, underserved, and homeless populations.
About McDonald's USA
McDonald's USA, LLC, serves a variety of menu options made with quality ingredients to millions of customers every day. Ninety-five percent of McDonald's approximately 13,500 U.S. restaurants are owned and operated by independent business owners. For more information, visit www.mcdonalds.com, or follow us on Twitter @McDonalds and Facebook at www.facebook.com/mcdonalds.
# # #
© 2023 McDonald's 
All trademarks and/or registered marks are owned by their respective companies.