Semester Final Exams
WED: Pancake Bkfast, English, World Lang
THUR: Science, Social Science
FRI: Theology, Math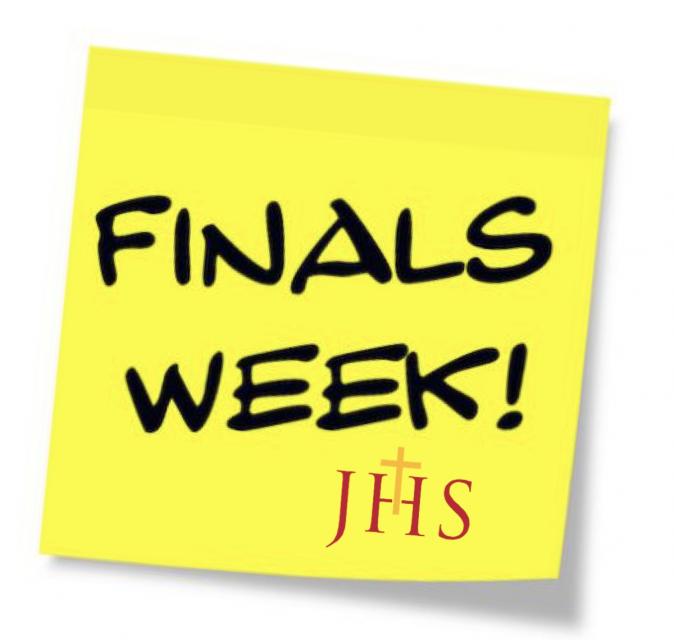 Final Exam Schedule
WEDNESDAY- December 14
7:00am – 8:00am, Pancake Breakfast
8:30am – 10:00am, English
11:15am – 12:45pm, World Language
11:15am – 1:15pm, AP Psychology (2 hr)
2:00pm – 3:00pm, Sports Medicine
THURSDAY - December 15
8:30am – 10:00am, Science
11:15am – 12:45pm, Social Science / VPA (frosh only)
2:00pm – 3:30pm, Conflicts / Make-Up Exams / AP Seminar (2 hr) / AP Computer Science
FRIDAY – December 16
8:30am – 10:00am, Theology
11:15am – 12:45pm, Math (Alg 1, all Geometry, Alg 2, Alg 2B, Financial Alg, Stats)
11:15am – 1:15pm, Math (Alg2H, all PreCalculus, all Calculus, AP Stats)
2:00pm – 3:30pm, Conflicts
Please note: Students who have CONFLICTS (2 Social Studies Exams, etc.) must see Mr. O'Connor or Mrs. Wagner by Monday, December 12!
Reminder of Jesuit's Final Exam Attendance Policy
As articulated in the Student-Parent Handbook, no student may take an early final examination. Delayed semester examinations require proof of illness or verified family emergency. Students with an unexcused absence from a final exam will be assessed a penalty of at least 10% on the final exam or project at the discretion of the Dean of Students. Delayed semester exams must be taken during the make-up testing time designated by the Assistant Principal for Academics. Grades on finals after this designated makeup time will be assigned a zero. Any questions regarding final exams should be directed to the Office of Academics.
Extended Time Testing
Students with 50% extended time testing accommodations (per their Academic Support Plans) will test with the rest of their class and may continue working after the conclusion of the posted exam time to allow them their allotted time to finish. Students with additional testing accommodations will receive instructions regarding where to report for testing from Mrs. Rose in the Academic Support Center.