Payment & Registration Due for Virtual Ignatian Family Teach-In for Justice 2021: Imagining a Path Forward
Registration extended!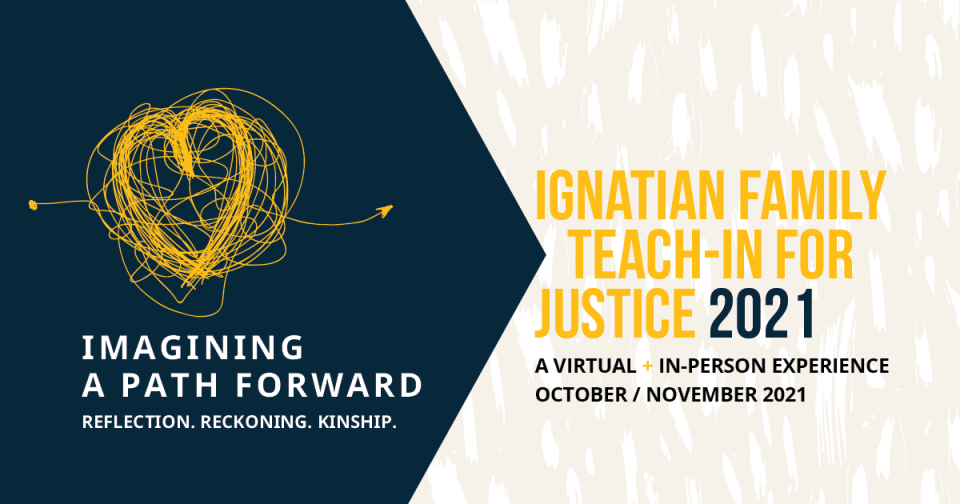 What is the Virtual IFTJ?
Are you feeling drawn to participate in the annual Ignatian Family Teach-In for Justice, or IFTJ, but could not commit to participating in-person? We hope you will consider participating in the Virtual Track of the Teach-In with us here on campus!
The virtual option will provide an opportunity for us to consider the connection between faith and justice through inspiring speakers, workshops, networking, prayer, and advocacy. We will gather together on-campus for opportunities to learn concrete ways to put our faith into action, while connecting with students around the country who are learning to do the same.
When: October 11-16, 2021
Monday, October, 11th – Community Period Reflection
Tuesday, October 12th – Virtual @ Home
Wednesday, October 13th – Virtual @ Home
Thursday, October 14th – Community Period Reflection
Friday, October 15th – Virtual @ Home
[Saturday, October 16th - Optional day of programming]
Where: Jesuit High School
Cost: $40 per student
Service & Justice Hours: 7+
Participation is eligible for 7 hours, with the possibility of additional hours for Saturday's participation.
For more information, please feel free to stop by the Office of Service & Justice or email Ms. Maynard (katie.maynard@jesuithighschool.org) / Ms. Carroll (gabriella.carroll@jesuithighschool.org)