Coronavirus Update for March 19
Distance learning to continue through at least Easter break April 19, 2020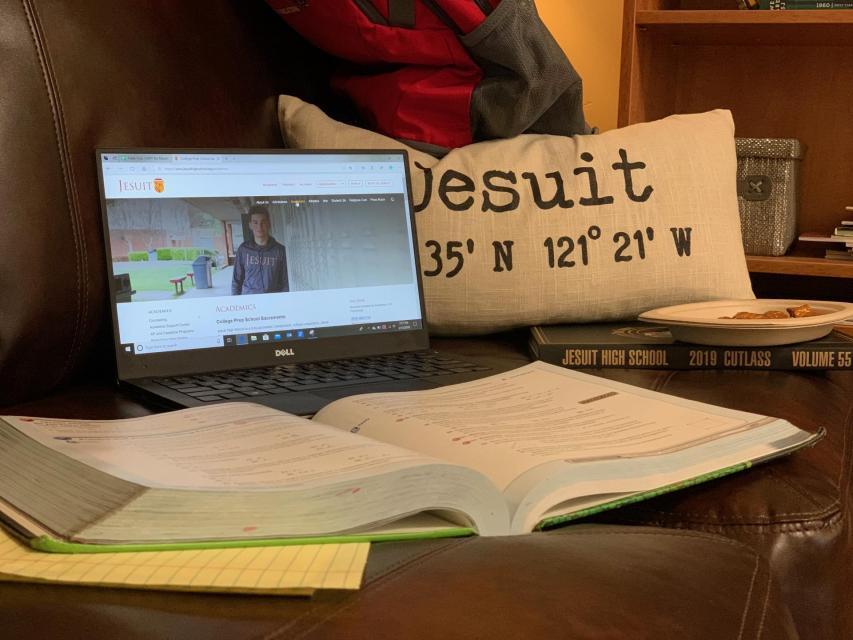 POSTED Thursday, March 19 at 4:00 pm
Parents, Students and Friends,
You continue to be in our prayers as we all navigate these uncertain times. It is our hope that Jesuit High School can be a source of stability, calm and faith, now more than ever. The purpose of this message, in addition to the regular updates and reminders, is to be a resource for students and families who may be experiencing isolation, confusion, and anxiety as the world around them changes rapidly.
We greatly miss seeing you, our community, especially the students and teachers each day. The campus is quiet and still, a stark reminder of this unprecedented situation. And yet, perhaps, we can use this time for deeper reflection where we turn the quiet into solitude and use the stillness to examine what is truly important. Maybe the constant noise and rapid pace that is no longer filling our every moment leaves some room for peace and calm. "Teach me to listen, O Lord." Let us learn to listen more intently and be reminded that our God is found in all things, even in the silence. Ours is a God who is always with us.
Please take some time to review the updates below.
Mental Health and Wellness
Please see this message from Kasey Cardinale, Jesuit's Wellness Counselor, that was sent to students this week. Self-care will be one of the most important components in working through this confusing and stressful time. Taking care of yourself is physical, relational, emotional, psychological and spiritual.
Dear Students,
Conversations will not be cancelled.
Relationships will not be cancelled.
Love will not be cancelled.
Songs will not be cancelled.
Reading will not be cancelled.
Self-care will not be cancelled.
Hope will not be cancelled.

May we lean into the good stuff that remains.

—To Write Love on Her Arms
Read the entire Wellness Wednesday message
Physical Wellness
The Jesuit Sports Performance Team invites you to embrace this school closure as an opportunity for growth. Physical well being is not something to be taken for granted, and so we will continue to reference the current research and employ standard practices to provide the very best health advice. Our team has updated the website's Performance and Training page with Tips to Train from Home from Jay Nacionales, Jesuit sports performance coordinator.
Timeline
We are planning to continue our remote learning until at least April 8, 2020. We do not yet know an exact date for our return to campus. I know we all want more specific guidance on the timing of our return, but we need to first understand the guidance from the public health authorities to schools, which has not yet been given.
We anticipate the campus remaining closed through at least the end of Easter vacation, April 19th. Easter vacation/spring break is scheduled for April 9th through April 17th. No online instruction will take place during the vacation period.
Continuity of Learning—Digital Learning Days
We are proud of how well our students and teachers have adapted to remote learning. Our shared comfort with our educational technology tools and our planning for the possibility of remote learning have allowed this process to be successful. It has been a reminder of the blessings in our school community. Our gratitude to Jesuit's Technology Department for their incredible efforts to support teachers and staff during this time.
In our communication for next week, we will invite you to participate in a survey so that we can "check in" with students and parents regarding their remote-learning experience.
Attendance
If students cannot complete work due to a power outage or internet disruption, JHS will require a phone call from a parent to the Attendance Line 916-480-2135 with an explanation. If the "absence" is excused by parent communication, teachers will accept late work without penalty.
Communication
The best method of communication between families and the school at this time is through email. All employees have been asked to check emails during regular work hours. With some staff members working from home, not all phones will be staffed consistently and a response may be delayed. Here is a link to our Staff Directory. We will also be sharing updates, thoughts, prayers, tips, and a little humor, too, across our social media. Please stay in touch and engage with us there also.
Access to Campus
In general, students and parents are not permitted on campus during the school closure. If you have a unique circumstance and you need to come to campus, please email Michael Wood or Fadia Desmond, who can evaluate your needs and set up a time to come to campus if possible.
Our next update will be no later than Tuesday, March 24.
St. Ignatius of Loyola — Pray for us.
Rev. John P. McGarry, S.J., President and Dr. Michael Wood, Principal